Solutions / Small Business
From Our Columnists
By one measure, Truth Social is already more successful than many of the former president's business ventures. But that's not really what this is about.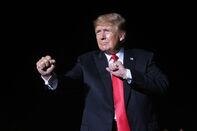 Nuke the filibuster, but only on bills that raise or suspend the debt limit. Even "Sinemanchin" should be able to agree to that.
Data show America's output is concentrated in counties that Biden won—which are better protected against delta.