STYLE
This Louis Vuitton Sneaker Is Silicon Valley's Latest Status Symbol
Data from online shop the Real Real highlights an unlikely star.
Troy Patterson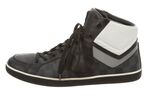 What if I were to tell you that the most happening sneaker on the red-hot resale market wasn't a $1,269 pair of Adidas Yeezy Boosts or a $1,515 retro Air Jordan design, but a high-top released by a French brand known for leather travel trunks and monogrammed handbags?
At the moment, rare and high-end sneakers are so highly valued that their re-sale prices can exceed the original sticker price. Shoppers most often find pre-owned kicks on sites like Stock X or eBay, where a bid of $1,750 might win a pair of Nike 4 Graffiti NYC Lebron basketball shoes. There is another market, though, for sneakers made by fashion brands such as Lanvin and Gucci.