Shopping for Good
For One Silicon Valley Startup, This Vegetable Is the Future of Milk
With $44 million in funding, Ripple products prepare to take over refrigerators.
By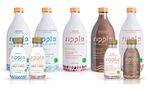 In recent years, alternative sources of milk have begun to disrupt the dairy industry, from soy to almond to rice. The latest contender for space in your refrigerator is milk made from yellow peas.
In 2015, sales of dairy milk decreased by 7 percent ($17.8 billion), and they are projected to fall an additional 11 percent through 2020, according to market intelligence agency Mintel. Meanwhile, Bloomberg has reported that almond milk sales rose 250 percent from 2011 to 2015.