economics
What Fortnite Teaches Us About Globalization
By and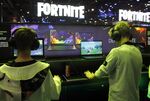 Subscribe to Stephanomics on Apple Podcasts
Subscribe to Stephanomics on Pocket Casts

Fortnite may be the biggest video-game phenomenon with more than 200 million registered players. It's also a good place to start if you want to understand globalization -- and the new directions the global economy is taking today.
In the premiere episode of Stephanomics, hosted by Bloomberg Economics head Stephanie Flanders, reporter Shawn Donnan explains how Fortnite has not only bypassed the U.S.-China trade war, but is also a key example of what's happening in the new digital economy. Then Stephanie talks with economist Richard Baldwin about how technology is crossing borders and changing the labor market.