economics
This Country Is Winning the Trade War
By and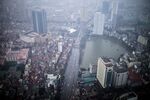 Subscribe to Stephanomics on Apple Podcasts
Subscribe to Stephanomics on Pocket Casts

The trade war between the U.S. and China is taking a toll on growth in the world's two largest economies, but there's another nation where the tariff battle is producing a clear winner: Vietnam.
On this episode of Stephanomics, hosted by Bloomberg Economics head Stephanie Flanders, reporters Michelle Jamrisko and Uyen Nguyen visit a furniture maker in Hanoi to get a sense of how companies are profiting from the U.S.-China tensions. Stephanie also talks with Bloomberg Opinion columnist Daniel Moss about the trade war and other forces shaping Asia's economies, then catches up with Bloomberg trade-coverage czar Brendan Murray about the implications of an interesting recent World Trade Organization decision.