Markets
Oil Pares Gains as Plentiful Supply Tempers Libya Disruption
By
Oil Pares Gains as Plentiful Supply Tempers Libya Disruption
By
Libya's biggest field shuts; Iraq halts some production

Brent, WTI give up gains after surging earlier in session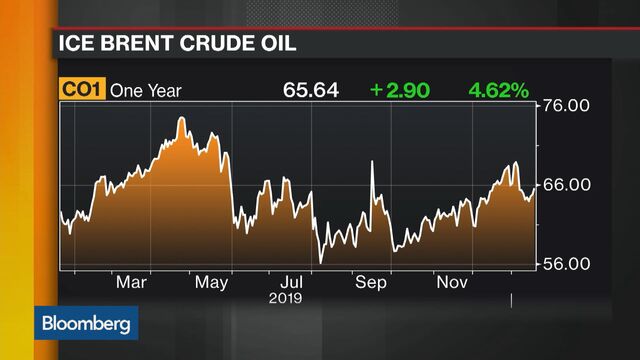 Oil pared gains after rising to the highest in more than a week as projections of plentiful world supplies countered concern about disruptions in Iraq and Libya.
Brent futures climbed earlier to $66 a barrel as Libya's oil production almost ground to a halt when armed forces closed a critical pipeline, shuttering output from the nation's biggest oil project. In fellow OPEC nation Iraq, escalating protests stopped work at a minor field on Sunday.
In the past few months, oil markets have rallied after an attack on Saudi oil infrastructure in September and military confrontation between Iran and the U.S. this month, only for prices to drop once tensions subsided.
"The oil market has been conditioned to look past any immediate supply disruptions," Daniel Ghali, a TD Securities commodity strategist, said by phone. "We really are in an oversupplied market."
The International Energy Agency projected last week that a "solid base" of oil inventories and surging U.S. shale oil production will help weather disruptions. On Monday, the International Monetary Fund trimmed its forecast for world economic growth, reducing prospects for energy demand.

Libya's eastern strongman Khalifa Haftar kept virtually all of the nation's oil fields shut, in a show of defiance after world leaders failed to persuade him to sign a peace deal ending the OPEC country's civil war. While the Libya conflict and other dramas have roiled markets, prices are now little changed from the end of last year after swinging within a trading range of $8 a barrel.

"The amount of oil which is off is substantial, but right now the expectations are that it's not going to last because it's part of a negotiation process," said Olivier Jakob, managing director at consultant Petromatrix GmbH in Zug, Switzerland. "We are in this situation where you have some supply concerns if one looks at protests in Iraq and the situation in Libya, but on the other hand the products are weak."
Brent crude rose 35 cents to $65.20 a barrel Monday on the ICE Futures Europe exchange, having earlier climbed 1.8% to $66, the highest since Jan. 9. West Texas Intermediate futures gained 12 cents to $58.66 a barrel in electronic trading on the New York Mercantile Exchange after rising 2% earlier. U.S. markets were closed Monday for the Martin Luther King holiday.
See also: The Man Who Cut Libya's Oil Supply Is Getting Harder to Handle
Libya won't be able to pump more than 72,000 barrels a day once its storage tanks are full, according to a spokesman for the NOC, down from more than 1.2 million barrels per day on Saturday. The company declared force majeure, which can allow the country to legally suspend delivery contracts.
Separately, security guards in Iraq seeking permanent employment contracts blocked access to the Al Ahdab oil field, prompting a production halt, according to an official who declined to be identified. The Badra field, which has output of about 50,000 barrels a day, is also at risk of closure.

— With assistance by James Thornhill, Serene Cheong, Andrew Janes, Saket Sundria, Heesu Lee, Grant Smith, and Alex Longley