Bonus Guide
Put Your Smaller Bonus to Better Use on Things That Will Appreciate
Bonuses are shrinking. Here's how to make your windfall go further
By
Put Your Smaller Bonus to Better Use on Things That Will Appreciate
Bonuses are shrinking. Here's how to make your windfall go further
By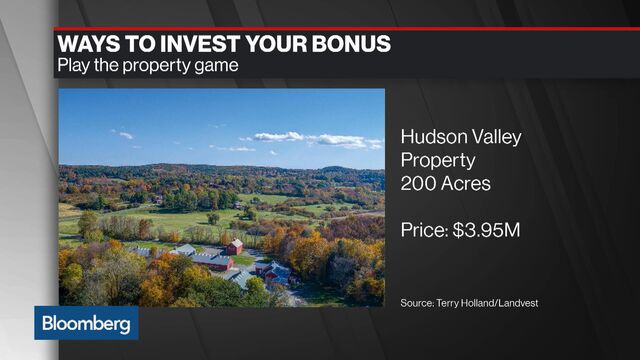 The era of big bonuses, you might say, is over. Earlier this year, Morgan Stanley, Goldman Sachs Group, Citigroup, and many others announced they'd be cutting back on investment banker bonuses in some shape or form. It doesn't matter how well the company is doing: JPMorgan Chase & Co. is keeping annual bonuses at its corporate and investment bank unchanged this year despite notching a record $36.4 billion profit in 2019. On the other side of the spectrum, Deutsche Bank AG executives have agreed to forfeit the component of their bonus that reflects personal performance as the lender prepares to unveil its biggest annual loss since 2015.
The pattern reflects a general reckoning across banking as electronic systems de-emphasize rewarding individual successes in favor of more broad group performance. "It's a team sport now," Chris Purves, head of UBS Group AG's Strategic Development Lab, told Bloomberg in January.

With this in mind, it may be wise to look at the dwindling reward as a chance to make another good investment. Think of a bonus in both senses of the word "appreciation"—a recognition of your worth, as well as something that will rise in value. It doesn't mean you must spend it only on the boring and practical; there are plenty of ways to have fun, or do some good, that have future upsides. Here are some of our favorites.
PLAY THE PROPERTY GAME

An historic spread, listed by Christie's International Real Estate, is set on more than 200 rolling acres in New York's Hudson Valley. It has 12 bedrooms, a tennis court, greenhouses, and a sheep barn.
Price: $3.95 million
Future value: With a working farm and the possibility of rental income as a corporate retreat, the property is largely self-sustaining.
Looking for a bigger ticket? A $28.8 million listing via Sotheby's International Realty has 15,000 square feet of interior space overlooking Lake Lugano in Switzerland. There's a spa and a pool on the first floor, entertaining areas on the main floors, and bedrooms on the upper levels of the 19th century art nouveau villa. Stock markets may go up and down, but Swiss real estate has been a rock-solid monetary refuge for more than a century.
INVEST IN A BETTER WORLD
Elevate Destinations' 12-day volunteering adventure in Sri Lanka lets travelers explore ancient monuments and cave dwellings. Then they help the country's Wildlife Conservation Society study elephant behavior to lessen the local conflict between people and pachyderms.
Price: From $3,500 a person
Future value: Each Elevate custom eco-luxury booking pays for a group of local children to visit cultural sites in their own country.

Or donate to World Central Kitchen: José Andrés's charity has fed disaster-hit areas around the world since 2010. A $10,000 donation will enable a farmer to buy a greenhouse or allow a small-scale food producer to get a walk-in cooler. WCK also offers food-job training to underserved communities, so you're investing in people as well as the world. And if your bonus is in the form of stocks, you can donate to WCK with shares or via a donor-advised fund.
BUY A PIECE OF HISTORY

Les Diners de Gala (1973) is a first-edition selection of avant-garde menus and recipes that artist Salvador Dalí completed at age 68 in honor of his wife, Gala. Available at Bauman Rare Books in New York, it has color plates and in-text photographs and illustrations on almost every page.
Price: $13,500
Future value: This extravagant book is made exceptional thanks to a bold inscription by Dalí himself with a hand-drawn sketch of a shooting star above his name.
SHARPEN YOUR KITCHEN TOOLS

A good knife is an invaluable piece of kitchen equipment, and it's what great chefs credit as their secret weapon. Bladesmith Quintin Middleton in Saint Stephen, S.C., custom-makes his high-carbon steel knives to the exact specifications requested by each customer.
Price: From $480 for a 9-inch knife (above)
Future value: Besides enhancing your kitchen skills, a well-made knife crafted by a master from high-carbon steel also negates the need to constantly replace it.
FASHION YOURSELF FOR A BETTER FUTURE
Alongside handbag investment staples such as the Birkin and Kelly is a relative newcomer—the Chanel Boy Bag.
Price: From $3,900
Future value: The Boy's average resale value is 73% of MSRP, 1.6 times stronger than handbags overall, according to the RealReal.

If you're more of a sneakerhead: Unknwn released a limited-edition $120 pink Nike Air Max Verona during the Super Bowl.
BETTER YOUR BODY
Men, it seems, are coming around to the minimally invasive liposculpting procedure at Ryan Neinstein's plastic surgery center. By using Renuvion's ionized helium (aka plasma technology), skin tightening complements the removal of stubborn fat.
Price: $7,500 (downtime is three days off work and three weeks out of the gym)
Future value: You can't add 10 years to your life, but you can knock them off your body.
BRING IN SOME BLING

Designed around 1990, the Cartier Panthère gold bangle bracelet, available at FD Gallery in New York, includes three different colors of gold. The open spiral ends in two sculpted gold panther heads.
Price: $8,800
Future value: Cartier is the most valuable and appreciated brand of jewelry available—even more so when it's vintage.
FIND A BEST FRIEND

Second Chance Animal Rescue of Puerto Rico is a 501(c)(3) nonprofit established in 2000 in Villalba. The organization rescues, rehabilitates, and secures permanent homes for the island's abandoned dogs.
Price: $400 (adoption fee includes vaccinations and spaying or neutering)
Future value: Your heart will grow bigger than you even thought possible.
ACHIEVE HIGHER SPIRITS

We all think we know whiskey. Cognac represents the chance to become an expert in a different, growing category. This bottle of Hermitage Cognac Marie Louise, aged for 60 years and the 2018 Cognac Masters winner, has the bonus of a limited-run crystal decanter.
Price: $2,000
Future value: Cognac is steadily appreciating, especially legendary bottles such as Rémy Martin Louis Xlll.
If you prefer putting your wallet behind wine: Bordeaux is still on the way up. A bottle of 2016 Château Les Carmes Haut-Brion is a stunning option for $169; fine wine exchange Liv-ex put it in its Power 100 for the first time in 2019. Price performance, meanwhile, is up 18% over the past year—much better than the first growths.
GET SMART ABOUT ART
A 2006 landscape of walnut trees, for sale at an auction at Christie's in London on Feb. 12, is trademark David Hockney—colorful, ebullient, and dreamily figurative.
Price: Estimated from $3.3 million
Future value: Hockney, who turns 83 this year, has been famous since the 1960s, but in the past couple of years his art has commanded some of the highest prices in his career.

If you think the Hockney market has peaked: There's a 1974 painting by the French modernist Jean Dubuffet (above) at an auction at Sotheby's London on Feb. 11 that carries a low estimate of £900,000 ($1.17 million). It's a prime example of his late style; his works from this period have sold well since their paint was still wet.
VISIT AN AT-RISK LOCALE, SUSTAINABLY

AdventureSmith Explorations offers a land tour through Ecuador from Napo Wildlife Center, an ecotourism project that's conserved more than 82 square miles of the most pristine rainforest in Yasunì National Park.
Price: From $1,332 per person for five nights
Future value: You'll be doing your part to support a local economy in a considerate way.
Then store all those pictures: The $299 Time Capsule from Apple Inc. is a wireless hard drive that works as a master backup hub. It'll allow you to secure all the Mac products in your home in one place—and it's also a full-featured Wi-Fi base station.
UPGRADE YOUR CULTURE
A membership to the Metropolitan Museum of Art's Friends of European Paintings Circle is not your typical museum benefit. Along with advance previews and private access, members at this level get tours with department curators and take trips to see like-minded collectors' private collections.
Price: $10,000
Future value: It's taking art appreciation to the next level. Knowledge, after all, is power; what you choose to do with it (collect, impress friends at cocktail parties) is up to you.
For more skills-based personal improvement: Consider CourseHorse, which offers lessons on cooking, pottery, computer programming, and foreign languages, among many other classes. Options can range from about $80 (how to make handmade pasta) to $12,000 (high-impact leadership training).