Watches
Artist Phillip Toledano To Sell Tweaked Rolex Submariners for $25,000
It's a project with King Nerd that is unsanctioned by the watchmaker, but Toledano is channeling the spirit of the timepiece with artwork depicting a Jules Verne-era submariner.
By
Artist Phillip Toledano To Sell Tweaked Rolex Submariners for $25,000
It's a project with King Nerd that is unsanctioned by the watchmaker, but Toledano is channeling the spirit of the timepiece with artwork depicting a Jules Verne-era submariner.
By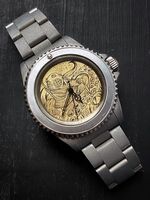 Phillip Toledano has photographed his eventual death. 
He has chronicled alternate realities of his own physical being (overweight, disabled, aged) and plumbed the depths of cosmetic surgery as an art form. In his work as a commercial photographer, he has captured Jerry Seinfeld in a red clown bowtie, deflated Steve Martin, and caught a sobbing Alec Baldwin.
It's enough to make you wonder what he does with his personal time. Surely, based on the content of this silver-haired chameleon's work, you would expect his hobbies to be … abnormal.
They're rather civilized, actually, if you don't count the oddly shaped little cars from obscure Italian automakers that Toledano tinkers with in a warehouse in New Jersey. What he really likes are watches. He's not snobby about it, either. The British expat collects everything from pre-Daytona mechanical Rolexes to '80s-era Seikos.  
"I'm driven by aesthetics—good design in all forms, whether it's mechanical or quartz," he says.
But Toledano, ever the artist, soon grew bored with the dozens of classic Rolex Submariners and typical Patek Philippes he stores in a cupboard vault in his loft in downtown Manhattan. So he made a new one for himself, a 1995 Rolex Submariner with a custom-made bronze dial etched in what looks like a still frame of a Jules Verne voyage extraordinaire and a single round black diamond stationed like a sentinel at the top of the bezel. He's calling it the Misterenthusiast x King Nerd watch, after the name of the persona he uses on social media and the nickname of the man who did the engraving, Johnny Dowell.

"For me, collecting is a reflection of who I am—and the more I collect, the more I want things that reflect who I am," says Toledano. "I liked the idea of making something personal to me that reflected some sense of my ideas and my design ethos."
To make the watch, Toledano bought his '95 Rolex 14060 from a contact in the watch world and removed the dial, then called Additive Restoration, a company that makes parts for rare and exotic cars, and had them make a new one. They experimented, at his request, with different patinas before deciding that simple brushed brass was best. He then sent the dial to Dowell, aka King Nerd, who engraved it with an image of a diver wrestling with an octopus. Next, Toledano had Harris Freedman, a Manhattan watchmaker, place the dial back in the watch, sand-blast the steel bracelet watch strap, and skeletonize, or hollow out, the hands before painting them black. He commissioned a jewelry designer named Katrina Vrakas to set a black diamond in white gold for the setting atop the brushed steel bezel.
Not one to limit himself, Toledano is going to make five more of them for sale at $25,000 each.    
The Outliers
Toledano is far from the first watch-lover to reimagine a watch from his favorite brand.
Affinity groups have long modified inexpensive Seiko watches, creating their own bezels and dials. A company called Artisans de Geneva has created bespoke watches from its atelier in Switzerland since 2005; you can even buy a Rolex with a Chrome Hearts case and bracelet for $30,000 or $40,000, depending on whether you prefer silver or gold.
Such modified wristwatches often appeal to longtime collectors who already own all the "right" things, says Stephen Pulvirent, the manager of editorial product at Hodinkee. They just want something more.
"There is an active community of people doing aftermarket modifications on all kinds of watches. It's really active and genuinely thriving," he says. "For the people buying them, it's not their first Rolex. It's for somebody who already has other things. Maybe it's their 10th Rolex. They already own all the classics, and they want to shake it up and do something completely different."

The best-known maker in the aftermarket modification lot, George Bamford, started his company in 2007. Bamford, heir to the JCB construction and agricultural equipment fortune, made his name in the watch world customizing Rolexes with his trademark matte black-on-black design; since then, he has reimagined watches from Bulgari, Zenith, and Tag Heuer. The watches themselves are polarizing, splitting watch collectors into those who love the quirkiness and personal detail of the modified watches and those who consider them just plain wrong.
"It's kind of a controversial thing in the watch world. There really is a purist mentality," Pulvirent says. "For every detractor, you'll find a promoter—and for every promoter, you'll find a detractor."
Rolex neither supports nor recognizes the un-branding of the brand it has worked so hard to cultivate and protect. But LVMH, the holding company for Zenith, Bulgari, and Tag Heuer, seems to have embraced the trend, officially recognizing the watches—and even offering customization options of its own.
"It's telling that only one of the big luxury groups has really embraced the idea of customized watches-—and it's telling that it's the one with a foot in the fashion world," says Pulvirent. In menswear, the highest of the high-end is always bespoke: You go to a tailor to have a suit custom made, rather than buy it off the rack. The same mentality isn't often applied to watches. Even at the highest level, collectors still buy them "off the rack," as it were. But modified watches such as these imply that the same mentality could be applied and even welcomed in some circles, says Pulvirent.
Appreciation values on altered watches are largely untested. And they are often expensive, because the modifier must buy the watch outright at retail prices before any adjustments can be made, which means the price becomes considerably loftier in order for the modifier to profit. What's more, critics argue, the best thing about a Rolex is its infallible mechanics and reliability to the nth generation. That perfection is the stamp of guarantee that makes someone want to own a Rolex in the first place. Buy a Misterenthusiast x King Nerd watch, and no warranty the timepiece initially held will apply.
Then again, that's the whole point. Toledano's true work here is subversive, taking a branded, recognized status symbol and making it not a branded recognized status symbol. The word "Rolex" is erased from the watch completely.
"I see a lot of Rolexes on Instagram where people engrave the case, and I always admired the craftsmanship, but I always felt like it fell short," says Toledano.
Portable Art
It's certainly a niche market. It took Toledano two years just to find Dowell, who is also British, having waded through dozens of  engravers who just didn't get the concept, he says. The two bonded immediately over the notion that the dial must be the focal point of the piece and must depict the nomenclature of the watch itself.
"As an artist, everything I do is conceptual," Toledano says. "I wanted to give the watch a look that matched its own narrative, and the dial had to be the big idea. "
Toledano was inspired in part by the in-dashboard galleries that automaker Rolls-Royce installed in some of its half-million dollar Phantom sedans. These are glass boxes set in the front dash of the car wherein the owner can keep wristwatches, jewels, statuettes, and other personal objets d'art in order to admire them while on the road. Compared to the in-dashboard galleries, a strikingly unique piece of transportable art for the wrist could be considered quite the bargain—relatively speaking.  
"There's something beautiful about producing portable art and carrying it around with you," Toledano says. "Will anyone want to buy one? I really don't know. But I think it's quite a nice idea."
To order your own Misterenthusiast x King Nerd watch, send a private message to Toledano via his Instagram account. Or, if you prefer open air to the ocean, sit tight: Toledano is already planning a series of six Air King Rolexes next. The dial will be etched with a scene from a fighter jet dogfight.