Markets
U.S. Stocks End Week at Record After Strong Earnings, Fed Signal
By and
U.S. Stocks End Week at Record After Strong Earnings, Fed Signal
By and
S&P 500 hits new peak; Treasuries, most European bonds advance

Euro hovers close to 2017 low; gold gains; dollar, yen steady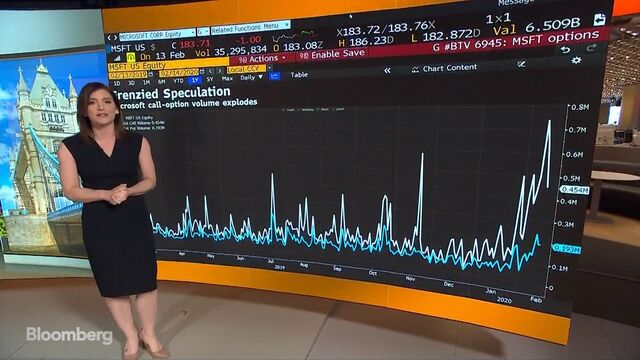 Nothing has been able to stop the streak of records in U.S. stocks.
During a week when the coronavirus threatened to become a pandemic that thwarts global growth, the S&P 500 Index advanced four out of five days, posting three records along the way. Investors found comfort in solid economic data, better-than-expected earning reports and a signal that the Federal Reserve stands ready to act if needed.
The benchmark for American equities jumped 1.6% in the week, ending at an all-time high. All 11 groups advanced, led by companies that pay high dividends as bond yields remained persistently low. Nvidia Inc. had its best week since 2017 after fourth-quarter results beat expectations. U.S. markets are closed Monday for a holiday.
While uncertainty about the deadly virus that's put China's economy in a halt remained high, Fed Chairman Jerome Powell said the central bank is monitoring the fallout from the pandemic. Adding to investor optimism data showing retail sales strengthened for a fourth consecutive month, putting consumers on track to support further economic growth.
"What we're seeing here with the new highs in the market is optimism that coronavirus will not hit global GDP perhaps as much as initially expected," said Jeff Zipper managing director at U.S. Bank Private Wealth Management, which has about $181 billion in assets under management. "Then you have earnings coming in better-than-expected. And then you have a Fed on the sidelines which has helped the market."
Economic data Friday showed retail sales rose in January for a fourth straight month as cheaper prices at the gas pump encouraged Americans to spend on other goods, underscoring steady consumer spending. Next week, Walmart Inc. is set to give investors an insight into the state of the consumer. Machinery giant Deere & Co. is also set to issue an update on its quarterly results.

Oil rose above $52 a barrel in New York, and the dollar kept close to its level versus a basket of peers. Gold gained and the yen held steady. The Stoxx Europe 600 Index closed lower Friday but was also up for the week. The euro steadied near a 2017 low after data showed the region's economy grew a scant 0.1% in the fourth quarter, matching forecasts. Major Asian equity markets climbed except for those in Tokyo and Mumbai.
"As virus concerns continue to linger, and presumably will be a focal point in the near future, U.S. retail health is largely immune from the virus, so we likely won't see any impact on this data, especially this early," said Mike Loewengart, vice president of investment strategy at E-Trade Financial. "What's really important for investors to remember is that fundamentals are strong and our economy still continues to grow -- debunking expectations of 2020 stagnation, at least for now."
While Beijing reported a smaller increase in virus cases in the epicenter of Hubei versus the previous day, they were still more than before counting methodology was changed. That's clouded the picture of the outbreak in a week that's seen Chinese airlines put workers on leave and firms such as drugmaker AstraZeneca Plc warn of a tougher outlook because of the disease.
News & Data: Coronavirus Market Impact
Nonetheless, investors anticipate a possible V-shaped economic recovery from the virus, even as the effects continue to be felt. Nearly 86,000 domestic and international flights in and out of China were canceled from Jan. 23 to Feb. 11. That's 34% of scheduled services.
Hubei reported almost 5,000 new cases, a day after confirming nearly 15,000. The death toll in China was at 1,380, lower by more than 100 to account for some double-counting. The World Health Organization has said the surge in diagnoses didn't necessarily indicate a spike in infections.
These are the main moves in markets:
Stocks
The S&P 500 Index gained 0.2% to 3,380.16 as of 4 p.m. New York time, the highest on record.
The Stoxx Europe 600 Index decreased 0.1% to 430.52.
The MSCI Asia Pacific Index dipped 0.1% to 170.41.
The MSCI Emerging Market Index was little changed at 1,105.94.
Currencies
The Bloomberg Dollar Spot Index was little changed at 1,206.92.
The euro was little changed at $1.0838, the weakest in almost three years.
The British pound was little changed at $1.3048, hitting the strongest in almost two weeks with its fifth consecutive advance.
The offshore yuan weakened 0.1% to 6.9926 per dollar.
The Japanese yen was little changed at 109.78 per dollar.
Bonds
The yield on 10-year Treasuries declined three basis points to 1.59%.
The yield on two-year Treasuries fell one basis point to 1.43%.
Germany's 10-year yield decreased two basis points to -0.40%.
Britain's 10-year yield fell two basis points to 0.628%, the largest fall in a week.
Commodities
West Texas Intermediate crude gained 1.3% to $52.06 a barrel, the highest in two weeks.
Gold strengthened 0.4% to $1,582.74 an ounce, the highest in almost two weeks.
LME copper climbed 0.5% to $5,790 per metric ton, the highest in almost three weeks.