The Small Business Administration Confronts an Historic Crisis
Former agency head Karen Mills says the emergency stimulus package is helpful but rapid delivery is crucial for America's 30 million small businesses
By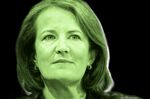 Karen Mills led the Small Business Administration from 2009 to 2013, helping America's small businesses recover from the financial crisis. Today, Mills is a senior fellow at Harvard Business School and president of MMP Group, her investment firm in Boston. She's been advising members of Congress, fintech players—she is the author of the 2018 book Fintech, Small Business & the American Dream—and others on the emergency stimulus measures for the 30 million small businesses in the U.S. She spoke with Bloomberg Businessweek on April 1, 2020. This interview has been edited for length and clarity.

What's your role with respect to the stimulus package?
My response has been to try to be as helpful as possible to anyone who asks. Two, three weeks ago, I began to get calls from Congress, from Speaker Pelosi's office, from various folks, to bounce the ideas off as they got put into the bill. I've been contacted by pretty much all of the fintechs with whom I'm close from having worked on my book for a year, and having written all these white papers. A lot of people have called me to ask, How does this 7a program [the SBA's flagship loan program] work, how am I going to connect to it?

I see my role as anything that I can do to, first, make the money available; second, to get the money deployed through as many channels as possible; and three, to help small businesses know how to access it.

Do federal policymakers and Americans generally understand how important small businesses are to our economy? 

Small businesses are a critical part of the economy, as you know. What brings it really home to people is when I say half the people who work in this country own or work for a small business. I used to say I went to sleep at night worrying about half of America's jobs. Back in 2009, I had to really pound the table in the White House to make sure everybody understood how important small businesses were to the economy.

I've always been frustrated about why economists don't understand this or see it the way I do. Part of it is because macroeconomists tend to look at the world as consumption, which is consumers, plus investment, which is big business, plus government spending. Small businesses very often don't show up in their macroeconomic models.
Will that change now with this pandemic and crisis?

Because of the nature of this crisis, people have recognized how important small business is. And also how vulnerable small business is. According to a JPMorgan Chase Institute study, small businesses have on average 27 days of cash buffer. For restaurants and many others, [it's much less]. From the time the spigot gets turned off and revenue stops coming into the business, small businesses have two to four weeks before they're out of cash if they keep paying their bills and their employees. This a very precarious situation because we're already two, three, four weeks into shutdowns of a vast swath of small businesses across America.
There are 30 million small businesses in America. Here's another fact many people don't recognize—24 million of them are sole proprietorships, hairdressers and Uber drivers. We worked very hard when the bill was being constructed to make sure they got included in the small-business section. And of course this piece of the gig economy has been growing. For 15 million of those 24 million, it's their job. They are self-employed. So luckily, the bill does cover them, and they can use some of the funding from this bill to replace the salary that they would have been making.
For the 6 million small businesses that do have employees, 4 million of them are Main Street [businesses]. So once again, these people are not generally recognized as part of the big economic engine of our country. But they're the fabric of our communities, and they are a lot of jobs. And today they're closed.
I got an email this morning from my local dry cleaner, who I love. They are just a terrific family-run small business. They said: We are too small. We are shutting our doors for the foreseeable future. I have to tell you, my heart broke in two. Because this is the American dream. This is immigrants who come to this country, who start a business, like my family. And we are going to see so many of them face, potentially, the end of their business. 

How would you describe the degree to which small businesses—especially those with no employees—understand the benefits and resources that are available to them?

Many small businesses are at a loss now as to how to access these government programs. There's a number of things folks are trying to do to make this more accessible, but I'm very concerned that the deployment of these funds is going to be too slow and too bumpy.
Right now, the best way to get these loans is not clear. We know that the loans are going to go out through 2,500 lenders that are already signed up with the SBA. Many banks don't have an automated front end to serve their small businesses. And they're being inundated with requests. Anecdotally, I heard that yesterday one small bank in Virginia already had 23,000 application forms filled by small-business owners.
So one of the solutions I am hoping to enable is to get some of the major fintechs and payment processors—Stripe, PayPal, Square—hooked up to this funding. The funding has been restricted to FDIC-insured banks and those who have SBA approvals, with the caveat the SBA and the Treasury can approve more lenders.
[U.S. Treasury Secretary Steven] Mnuchin has said these loans are going to start Friday [April 3], but the pipes are not ready for the volume and they're not all properly connected up. There's a lot of work to be done to make this happen. And there are a lot of concerns about fraud and the use of this money and people taking advantage.
The sense of the bill was, reduce as many frictions and barriers as possible. Get as much money out. But I know many of the banks have pushed back and said, 'We're afraid that the administration will blame us later, even though they say it's OK now if there's too much fraud.' So they need to get some assurances and move quickly.
Can the SBA and the lenders really handle the demand for the two main programs—the Economic Injury Disaster Loans and the Paycheck Protection Program loans?

As I said, it's too much demand to be easily handled. I think that's realized by everybody. So the question is how to shore up any of the potential faults in the system.
The disaster loan you spoke about is a tried-and-true SBA product. It is ramping up. Usually in the past, we've been able to ramp it up very quickly for disasters. We used it, for example, in the BP oil spill. But that was a geographically contained area. And we had 2,000 reserves in the disaster operation who are ready to actually physically go to disasters. Well, of course they're not going to go anywhere today. And usually they would also go to a big processing center in Dallas, Texas, and sit at long cubicles and tables. You're not going to put people in that proximity at the moment. 
So it's not clear to me how they're going to do all this volume remotely. But once they get going, SBA can be a machine. So as soon as they get that program ramped up, it is definitely perfect for this situation. Economic Injury Disaster Loans are very long-term, low-interest money that should be able to be in the hands of small businesses fairly quickly once the machine gets going.

We've done three packages that include disaster relief for small business, the CARES Act being the biggest. Do you expect we'll need to do more?
I believe we'll have to do more. I think we'll find that certain channels work well and that we will have to adjust the piping to the channels that are working well. I hope we will use the whole $349 billion and then deploy more. When the Recovery Act was passed [in February 2009], a certain amount of money was given to SBA for getting the banks back to lending in 2009. I ran out of money five times, and five times Congress gave me more money. We got 1,000 banks back to lending in six months. 
So my experience is, you figure out what works. You show demonstrated improvement and progress. And then, even in those difficult times, we were able to get bipartisan support for refilling the operation. Today I'm focused on deployment: $349 billion is a big number. Let's get that part out.
What else should we be thinking about?
The next step will be important. For a recovery, we are going to have to get a new kind of money out which will help small businesses start up. I'm very concerned that we are going to see large numbers of small businesses fail. Even in the best of times, many small businesses aren't succeeding, and they may see this as the time to shut their doors. 

What we know from the last recession is that when many small businesses shut their doors, it's very hard to ramp them back up. One of the things we learned from the last recovery is that more readily available startup money for [Main Street] small businesses would be a very positive recovery element. It's not the focus today, but it definitely should be in the queue.

ADDITIONAL RESOURCES  & TIPS

Small Business Administration's COVID-19 page

U.S. Treasury Department's  Paycheck Protection Program page

"Be Aware of Fraudulent Actors" - The SBA tweeted, "There's no fee to apply for a #PaycheckProtectionProgram loan. Be aware of fraudulent actors who may charge people to assist with obtaining one."
Follow the SBA's feed @SBAgov
Before it's here, it's on the Bloomberg Terminal.
LEARN MORE