economics
China's Uneven Reopening Shows Fear Might Hold Back Economies
Going back to work seems less scary than shopping or eating out.
By and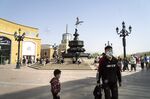 Subscribe to Stephanomics on Apple Podcasts
Subscribe to Stephanomics on Pocket Casts
Subscribe to Stephanomics on Spotify
How do you restart the global economy following a coronavirus-induced lockdown? China is the test case, and getting workers back to work is proving a lot easier than getting them to shop or patronize restaurants. On this week's episode, Stephanie Flanders talks to Bloomberg Beijing bureau chief Sharon Chen about her recent visit to Wuhan, the starting point of the pandemic, and her subsequent 14-day quarantine when she returned home.
Flanders also speaks with Bloomberg chief Europe economist Jamie Rush about how lifting restrictions will translate into increased economic output. Then, in an excerpt from a panel discussion, former European Central Bank President Jean-Claude Trichet has some strong words about the Group of 20's response to the pandemic, along with inflation targeting and a few other topics.