economics
A 70,000 Year View on the Covid-19 Crisis
What the global pandemic may mean for international relations, and maybe a better future.
By and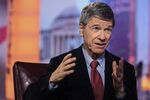 Subscribe to Stephanomics on Apple Podcasts
Subscribe to Stephanomics on Pocket Casts
Subscribe to Stephanomics on Spotify
Covid-19 is the biggest threat to our physical and economic health in recent times, but on this week's episode, Columbia University professor Jeffrey Sachs takes a 70,000 year perspective on the global crisis, what it will mean for international relations and even a potentially better future.
Host Stephanie Flanders also speaks to Bloomberg Opinion editor Ferdinando Giugliano about the European Union's proposed recovery fund. He thinks this time will be different for fiscally strait-laced Germany, but for it to have lasting impact, the Italians will need to show they can spend it wisely.