When Police Horses Become Targets for Budget Cuts
Baltimore recently voted to disband its mounted police unit. As U.S. cities move to reduce law enforcement funding, cops on horseback could be the first to go.
By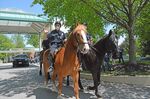 For 130 years, the streets of Baltimore have been patrolled by horses: The city boasts the oldest continuously running equine unit in the U.S., founded in 1888. Within the last 30 years, a veritable herd of 25 police horses clopped the city's cobblestones; today there are just four steeds on the Baltimore Police Department force: Pax, Porter, Slurpee and Blair. They're often spotted in the city's downtown Inner Harbor area, where the animals' great size helps give their human partners a higher vantage point to survey crowds of tourists. 
But on June 15, the Baltimore City Council voted to eliminate the mounted unit as part of a 13-2 decision to reduce next year's police spending by $22.3 million. The budget trim also includes cuts to the department's marine unit and some patrol services. The vote came in response to recent demonstrations in Baltimore and across the U.S. over police brutality, though at less than 5% of the $550 million Baltimore annually spends on its law enforcement agency, the reduction falls far short of protesters' demands to defund the police. Still, city council president and Democratic nominee for mayor Brandon Scott says it's a signal of what's to come, according to the Baltimore Sun. 
As more cities pledge to reduce police funding, more horse-mounted units could also be sent out to pasture. There are dozens of mounted units across the U.S. today, some more than 100 years old. One of the largest, the New York Police Department's mounted unit, has as many as 50 horses, and the NYPD spends more than $8 million a year operating it. Units in Chicago and Houston both have more than 30. Over that last few years, many cities have been scaled back or disbanded their units; others have later restored them, thanks to community and private fundraising efforts.
Whenever police departments face budget scrutiny, "the horses are first to go," says Mitchel P. Roth, a historian who specializes in the history of law enforcement at Sam Houston State University.

The last time a wave of cities downsized or shut down their horse patrol units was in the 2010s, after the Great Recession reduced police spending. Units were culled in Boston, Charleston, Newark, and Tulsa, Oklahoma, according to the New York Times. In more recent years, fiscal constraints have led to the disbanding of mounted units in Las Vegas, Kansas City, and St. Paul, Minnesota.
Shutting down a mounted police unit is a little more complicated than other exercises in law-enforcement downsizing. Animals discharged from police duty have been sent to rescue farms, donated to therapy organizations, auctioned to private farms or returned to their original donors — often private owners looking to transition members of their herd to new careers. Some animals get sent to other police departments. When Boston disbanded its team of 10 horses in 2009, it leased five to the New York Police Department, returned two to their original owners who had loaned them to the police, and sent the remaining four to be overseen by the Plymouth County Sheriff. In San Diego, the police department auctioned off seven of its prized steeds online in 2010  for a grand total of $128,000 after the unit was shut down as part of a $12.5 million cut to the city's police department. 
In other cases, horses have been adopted — like in Tulsa where a community foundation coordinated the adoption of the unit's eight steeds by five nonprofits — or donated to worthy causes. When Puerto Rico disbanded its mounted patrol unit in 2018 to save half a million dollars, the police department donated all 30 horses to therapy groups. "Former police horses are often great in equine therapy programs because they are accustomed to noise and movements around them," says Julie Broadway, president of the trade organization American Horse Council, in an email. "Equine assisted activities and therapy facilities are almost always on the lookout for horses that will work well in their programs."
For animal welfare advocates, the main concern is that police departments have a transition plan for their retirees, so they don't become victims of abuse, neglect or slaughter. "They're such large, expensive animals that are very complicated. They may add so much to our lives, but they're not easy or inexpensive to take care of. For that reason, they often transfer homes and careers many times in their lives," says Valerie Angeli, vice-president for engagement at the nonprofit Equus Foundation. There's also a concern that local equine rescue organizations may already be overwhelmed as private horse owners economically hard hit by the Covid-19 pandemic struggle to keep taking care of their herds.
In Baltimore, the Police Department says it's still figuring out where Slurpee and his colleagues will end up. Eliminating the mounted police unit is slated to save the city $554,000, which reflects the costs of training, feeding, and caring of the horses, but not the salaries of officers who have been shifted to other departments. But those savings might not pencil out: The city recently signed a 15-year lease with the B&O Railroad Museum to house the horses in a brand-new facility located on the grounds of the train museum southwest of downtown: the new First Mile Stable project was built with $2.5 million in funds collected from individual and corporate donors, as well as foundations. According to the online news site Baltimore Brew, the city risks paying back the full cost of the project if they break the lease without the required one-year notice. 
The stable project had also been a joint effort between the Baltimore police and the museum to spur much-needed economic development in the Mount Clare neighborhood, where more than a third of residents live in poverty. In a statement to the local news site SouthBmore, the head of the community association called the city council's decision "a harsh disappointing setback to our disenfranchised community."
Besides the $2.5 million in stable construction costs that the city may be on the hook for, what else might be lost when the mounted unit rides off into the sunset? The law enforcement value of cops on horseback, compared to those in cars and on bikes, isn't entirely settled. Fans of policing-by-horse argue that one mounted officer can be as effective than 10 to 15 officers on the ground, and can go where a patrol car can't, like on off-road trails and down narrow alleyways. The sheer visual presence of these 1,500-pound animals can also be effective in certain situations, and their great size gives officers a commanding view over crowds. But while it's still common to see officers on horseback near urban parks, "over the historical period, they've performed more of a ceremonial purpose than anything else," Roth says. Standard horse duty usually involves taking part in events like festivals or funerals, walking in parades, and showing up for public events.
Cutting the mounted units can be an unpopular move, and not only among the officers who have established a relationship with their four-legged partners. Boston's decision to shut down its unit in 2009 drew more than 2,600 signatures from locals petitioning the city council to reconsider. One year after Newark disbanded the mounted police, local business owners helped raise money to restore it. "In smaller communities and in mid-sized cities, you might expect more of that because there's a good chance that somebody's familiar with the mounted police officers, or with the ceremonial purposes," Roth says. "I don't see people in a large city really getting upset over the removal of horses. The whole thing is they have to prove their worth."
City police departments often argue horses are useful for building positive community relations — something in desperately short supply right now. The new stable for Baltimore's police horses includes a community center that would function as both a classroom and a museum. Last year, recently retired BPD horse Big D, also knowns as Dino, was inducted into the Equus Foundation's Horse Stars Hall of Fame for his record of service: The massive Palomino racked up more than 170 community and service events per year during his police career, and was lauded for his gentle nature.
But mounted units are not immune from the reckoning with police brutality and racism that has overwhelmed urban policing in general. In October 2019, police in Galveston, Texas, drew outrage for evoking images of slavery after photos emerged of two horse-mounted officers leading a handcuffed Black man, who was on foot, by what appeared to be a rope through the streets. They've also become liabilities for injuring people, and in instances in which they were deployed during riots and protests, their intimidating presence can escalate tensions and lead to more violence, critics argue. Houston police have come under fire after a video showed a police horse trampling on a demonstrator during the recent George Floyd protests. A current Change.org petition demanding an end to the use of police horses in riot control has collected more than 10,000 signatures. 

(The horses themselves have also been occasional victims of attempted human-on-horse violence, at least in Philadelphia, where an intoxicated Eagles fan was arrested for punching a police horse in 2018.) 
Generally, community activists say that building trust between police and their communities takes more than just showing a friendlier horse face. "Opportunities for the public to engage with police on friendly ground is not how you build strong community relations or rebuild trust, if there ever was trust," says Tara Huffman, director of the criminal and juvenile justice program at Open Society Institute-Baltimore. "The PAL programs, or the police athletic leagues, and the mounted police units — all of these things designed to show a different face of policing — cannot atone for the multiple violations of someone's constitutional and civil rights that happen on a racial and class-basis every single day in the city."
Huffman cautiously applauds the city council for exercising a "muscle that they are not accustomed to flexing" — that is, making politically and historically unpopular cuts to the police department — but says transformational police reform should not stop at eliminating the "soft targets."
Roth predicts that mounted units can endure even if budget crunches thin the herd. But amid the economic challenges and the political atmosphere, police leaders may have to re-defend their value to the community as a whole. "You see this popularity wax and wane," he says. "I've done a lot of interviews on de-policing and other theories for police reform, and the the question is: What will the role of mounted police play in this new vision of modern policing?"