The All-or-Nothing Approach to Social Distancing Isn't Working
"Just say no" isn't always a winning public-health message. History shows a more accepting approach can still keep people safe from coronavirus.
Catesby Holmes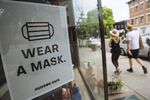 After months in lockdown, many Americans are craving human contact, crowding into bars and joining parties or other large gatherings. The standard rules to prevent Covid-19—wear a mask and stay at least six feet apart—are being flouted, even as cases spike across the U.S. and the World Health Organization warns the worst is yet to come.
This apparent coronavirus fatigue is spurring some public health experts to call for more nuanced guidelines to help people avoid contagion. Their recommendations draw on a pragmatic model called harm reduction, which seeks to reduce the negative consequences of potentially risky activities, particularly drug use. Harm reduction emerged in the early 1990s during the AIDS crisis, and one of its key lessons "was that people had to think in terms of safer, not in terms of absolute safety, figuring out how to do activities that were essential to life," says Daniel Wolfe, of the Open Society Foundations' public health program.
A classic harm reduction tool is needle exchanges: One analysis of more than 1,600 injection drug users in New York in the early 1990s found that those who did not use a syringe exchange were more than three times as likely to contract HIV. Supervised injection facilities, where people use heroin or other drugs under the watchful eye of a trained professional, are another type of harm reduction intervention that not only reduces HIV infection but also overdose. Both are judgment-free zones.
Along those same lines, NYU Langone doctors Richard Greene and Eric Kutscher proposed a pandemic goal of "safer socializing" in a recent op-ed for the Journal of the American Medical Association. "People really hold onto the idea that it's all or nothing," says Greene. "There is a large space between nothing and everything, and we have to find that."
In a coronavirus context, that same logic applies to everything from dating to visiting friends to recreational drug use. Harm reduction gives people the information and tools they need to protect their health, not "absolutist public health messaging" that makes survival contingent on perfect behavior, says Julia Marcus, an epidemiologist at Harvard Medical School.
Another tenet of harm reduction is the recognition that poverty, racism and other social inequities make people both more vulnerable to certain risks and less able to reduce them. That's a problem with the standard "wear a mask, stay six feet apart" guidance, Marcus says. It puts a lot of burden on individuals, not all of whom are equally able to comply. Masks get expensive, she points out, and "parks are particularly hard to come by in the neighborhoods most affected by Covid," referring to the documented scarcity of public space in predominantly Black and Latino areas. To help protect marginalized populations, cities may have to close more streets to traffic and distribute free masks, she said.
How to Socialize
For people fed up with quarantines and social distancing, Wolfe recommends talking to friends about coronavirus risk before you see them. Ask where they've been, who else they've seen and how they protect themselves. Don't just show up and hope their safety protocols resemble yours.
"Silence allows assumptions to go untested and, often, misunderstood," he says. "Meeting for drinks on a stoop may be as essential to people's well-being as going to the doctor, but that doesn't exempt you from risk."
If socializing involves smoking or using drugs, "minimize the need to share your supplies," advises the national Harm Reduction Coalition, a nonprofit advocacy group. Guidelines on its website say not to share "e-cigs/cigarettes, pipes, bongs or joints, or nasal tubes such as straws."
Risk communication should be part of dating, too, according to Wolfe. His advice, "from the bad old days of HIV," is called negotiated safety. Back then, it meant potential sex partners would take virus tests, talk through their expectations and exposure, and only then have unprotected sex.
Now, the same applies to dating—except that these conversations must happen "much earlier in the process, before you even make out with somebody," Marcus says. She also advises single people to minimize their exposure. "If you're used to dating a lot of people, this might be a time to try one partner at a time."
Realistic Expectations
Dr. Kimberly Sue, medical director at the Harm Reduction Coalition, sees such advice as common sense, not harm reduction. Sue worries applying the term to a quarantine-fatigued public dilutes a model created by and for drug users. "Harm reduction is a movement, a philosophy and a practice of really shifting power and resources to people affected by structural violence and vulnerability," she says.
One such example is a supervised injection site called Insite that opened in 2003 in Vancouver's Downtown Eastside neighborhood. Two years later, fatal overdoses in the area had decreased 35% — almost four times the drop seen in other Vancouver neighborhoods, according to a 2005 paper published in The Lancet. Studies suggest the Insite facility prevents between 19 and 57 new HIV cases each year.
"For us, the marginalized, we have never been supported in a way that we could even set ourselves up to social distance, even if we wanted to," says Donovan, a Downtown Eastside resident who has used Insite's facilities and asked to keep his last name private. In his community of mostly homeless drug users, Covid-19 is "so low a priority of the things to be concerned about."
The dilemma facing people like Donovan, who can't follow official health guidelines, differs wildly from that of the barflys who simply prefer not to. But both groups would probably benefit from more realistic expectations about their pandemic behavior. Whether by choice or necessity, many people will find themselves in close quarters despite coronavirus.
"It's a marker of realism and life in this moment to think about risk," says Wolfe.
(Catesby Holmes is International Editor and Religion & Ethics Editor at The Conversation, in New York, and a freelance journalist.)