Energy & Science
Ocean Plastic Pollution Is on Track to Triple By 2040
A new report published in partnership with Pew Charitable Trusts outlines dramatic but achievable steps that could stem the flow by as much as 80%.
By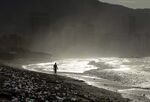 The annual flow of plastics into our oceans is on a trajectory to triple over the next 20 years, which could add up to 110 pounds of plastic trash for every meter of coastline worldwide, a new report finds.
That path is not inevitable, however. The volume could be cut by 80%, the analysis found, by taking actions to reduce the growth of virgin plastic production, improve waste collection systems across the globe, and invest in the creation of plastic materials that are easier to recycle.