What Does Trump Think the 'Suburban Lifestyle Dream' Means?
In his ongoing campaign to paint racial desegregation as a bid to "abolish the suburbs," the president is pushing a vision of suburban voters based on a dated demographic reality.
By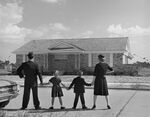 On Wednesday, President Donald Trump took a victory lap on his new fair housing policy, which he has said will preserve communities from progressive efforts to "abolish the suburbs."
Writing with a developer's sense of bombast, Trump took to Twitter to proclaim that people living out the "Suburban Lifestyle Dream" will "no longer be bothered or financially hurt by having low income housing built in your neighborhood."
Last week, his administration scrapped an Obama-era regulation known as the Affirmatively Furthering Fair Housing rule, which was designed to better enforce the decades-old federal mandate to actively reduce racial segregation. The president's message appeared to be a barely coded appeal to suburban "homevoters" — those property-owning members of the electorate who prioritize their housing investment when deciding political issues. "Your housing prices will go up based on the market, and crime will go down. I have rescinded the Obama-Biden AFFH Rule," Trump wrote in the tweet, adding a cherry on top: "Enjoy!"
Over the past few weeks, Trump has been positioning the suburbs as the key to his chances for reelection. When it comes to housing segregation — or "neighborhood choice," as the new rule puts it — the president is saying the quiet part out loud, through a bullhorn. When the U.S. Department of Housing and Urban Development first moved to revise the rule in 2017, officials said that the regulation was too burdensome. Housing Secretary Ben Carson published an op-ed this week underscoring his efforts to "tend the regulatory landscape." Trump has instead articulated a clearer purpose, in the form of a promise to white suburban homeowners: His administration won't require communities to break down the patterns of segregation that work to their advantage.
Trump is now betting all-in on the suburbs. It's a risky wager. While many neighborhoods are still segregated, suburban America as a  whole — as a region and as a polity — is diversifying rapidly. The Suburban Lifestyle Dream that dwells within the president's psyche may be a Fading Demographic Reality.
"On this issue, just like on other issues like immigration, he's trying to appeal to people who haven't looked carefully into these issues for maybe 20 or 30 years," says William Frey, senior fellow at the Brookings Institution and the author of Diversity Explosion: How New Racial Demographics are Remaking America. "In this decade, suburbs are a microcosm of America."
Simply put, the suburbs aren't as white as they used to be. The growth of minority populations in suburban areas has changed their appearance and their politics. By 2010, in fact, within the 100 largest metropolitan areas in the U.S., there were more Black people living in the suburbs than inside inner cities. That was already the case for Latino and Asian populations, groups that have been steadily rising in the suburbs for decades now.

Not every suburb is changing so quickly, of course, and racially homogenous neighborhoods are another thing altogether. Trump's new housing rule would help keep them that way. In practice, it concerns things like the distribution of low-income housing tax credits or Section 8 housing vouchers, patterns that don't refer explicitly to race but bolster segregation by isolating areas of concentrated poverty. With a tighter rule in 2015, the Obama administration sought to require states and localities that receive federal housing dollars to show that they're not reinforcing segregation. The Trump administration's July 23 policy reinstates the anything-goes standard of the 1990s.
The rule is not law yet, and New York Representative Alexandria Ocasio-Cortez has introduced amendments to defund the rule before it can take effect. Rule or no rule, though, growing numbers of Hispanic, Asian, and multiracial Americans, especially in the South and Midwest, are fueling a diversity boom that is overturning traditional political expectations. 
"The city-suburb disparity is not anywhere as important as it was," Frey says. "I would say the '80s would be the last time you would think of predominantly white suburbs in a lot of parts of the country."
This generational transformation has already manifested itself in one election turnover. In the 2018 midterms, Democrats swept races for the House of Representatives owing largely to suburban voters. According to CityLab's Congressional Density Index, districts in the suburbs are now twice as likely to be represented by Democrats than by Republicans. It's not the case that the suburbs are filled with persuadable swing voters, either: The suburbs are every bit as partisan as urban or rural areas, if not more so. The suburbs are just more diverse now.
Trump's pivot to suburbia is not isolated to his early-morning tweets. Speaking in Midland, Texas, on Wednesday, he said he had delivered a promise long sought by suburban homeowners. "There will be no more low-income housing forced into the suburbs," the president said. He added, "It's been going on for years. I've seen conflict for years. It's been hell for suburbia."
Neither is Trump's focus on the suburbs isolated from other elements of his campaign strategy. Even as he offers what he imagines to be a tasty carrot to the suburbs, he's saving the stick for cities. Trump has sought ways to deploy thousands of active-duty troops in U.S. cities to quell protests; his administration surged federal police to Portland, Oregon, over the objections of state and local leaders, and pledged to send more to other cities to protect federal property and combat violent crime.
Poll after poll shows that Trump's position in the suburbs is slipping, not strengthening. According to an ABC News/Washington Post poll earlier this month, Vice President Joe Biden leads Trump 52% to 43% among suburban voters. The more they see of Trump's policies specifically addressed to them, the less they like it. A poll conducted in June by the New York Times/Siena College found that only 38% of voters in the suburbs approve of Trump's job performance, compared with 59% who disapprove. An even wider margin disapprove of Trump's approach to race relations and recent protests against police violence. "[W]hile polling shows that suburban voters disapprove of the president's job in general, they disapprove even more of his handling of the very issues he is trying to elevate," Emily Badger and Nate Cohn report. 
On Thursday, U.S. Attorney General William Barr announced a ramp-up of federal police in Cleveland, Detroit, and Milwaukee. It's hard not to notice that those cities fall in Ohio, Michigan and Wisconsin, states crucial to Trump's electoral victory in 2016. The president's playbook for 2020 is similar but enhanced by the powers of his office. For suburban areas, he's promising to enable NIMBY neighborhoods to continue to self-segregate; for urban areas, he's delivering something closer to all-out war. 
So far, suburban voters aren't buying it. "It's not the chocolate city-vanilla suburb situation that people used to think about," Frey says.