Chicago's Bid to Reinvent the Corner Store
The South Side neighborhood of Englewood puts a healthy food market at the center of a community-led "urban Marshall Plan" built to combat poverty.
By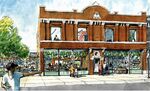 When it's completed, the corner grocery store at 63rd and Racine will look a lot different than the other carryouts and bodegas dotting this section of Englewood, on Chicago's South Side. 
Designed by Wheeler Kearns Architects and developed by local nonprofit Inner-City Muslim Action Network (IMAN), the Go Green Fresh Market will essentially be a miniature supermarket across 3,000 square feet, with heaps of storage and two walk-in fridges. Floor-to-ceiling glass and will open up the store to the streetfront, putting the food on display, where its emphasis on fresh produce will be obvious — a rarity for corner stores in Englewood, or anywhere else. 
Moveable shelves will make the space flexible, allowing the store to also host community events. Instead of cracked linoleum and flickering fluorescents, masonry walls are being left exposed; natural light will flood in from a skylight. West African fabric patterns and colors are guiding their interior choices, says Chris-Annmarie Spencer of Wheeler Kearns, so it doesn't look like a "generic high-end grocery store." 
For Spencer and IMAN, the task with the Fresh Market is not just to signal that it's a new sort of corner store: The market is just the first part of a multi-phase project called Go Green on Racine, a campus of new and adaptively reused buildings in Englewood encompassing public health, housing, job training, and community and green space. IMAN has been working with other local advocacy and nonprofits like the Resident Association of Greater Englewood (RAGE) and Teamwork Englewood through a grassroots, community-led process to plan the campus; with IMAN's Green ReEntry, program, formerly incarcerated people learning construction trades will help build it.
Think a block-scaled Green New Deal. Or, as IMAN executive director Rami Nashashibi says, "a new version of an urban Marshall Plan. We're centering the voices of those who are most often left out of these processes and reimagining what is possible."

Asiaha Butler, executive director of RAGE, says the wide programmatic spread of the project is vital to combat the systemic deprivation Englewood faces. The neighborhood has been brutalized by vacancy and school closures; it suffers from high poverty, low educational attainment, and poor health outcomes. Almost 95% of its 23,000 residents are Black. "You can't just treat one [symptom] without getting to the root of the issue," Butler says. "We couldn't just do [a housing project] if people aren't making a living wage. We can't just have a healthy food store if access to clinics and health care is also an issue." 
The coronavirus has underscored the urgency of Englewood's needs: The pandemic has created even more food insecurity as unemployment and poverty have skyrocketed. In 2010, the USDA identified 39 census tracts in Chicago as being "food deserts," where at least a third of the population lives more than one mile away from a supermarket, and these areas extend into Englewood. Covid-19 convinced IMAN to dedicate less space to the dine-in restaurant initially planned for the Fresh Market's first floor, to make more room for groceries. "We're really pushing to maximize the space that can display merchandise, because that's what the neighborhood needs: a safe place where people are able to shop," says Spencer. 
The pandemic forced IMAN and Wheeler Kearns to pivot their plans for the Go Green on Racine campus in other ways. Earlier, a former elementary school, Woods Academy, was slated to house significant job training space; that's been scaled back in favor of more transitional, dorm-style housing for people returning from incarceration. Other parts of the Go Green campus also aim to bring long-idle parts of the neighborhood back to life: IMAN is advocating for the re-opening of the Racine CTA El Green Line station that hovers overhead, which went dark in 1994, to again serve the neighborhood's transit riders. 
The market, which is set to be completed by winter, is being built inside a handsome red-brick two-story building that dates back to 1906. The $2.8 million needed for the market will be spread across a dramatic ground-up renovation. "We're pretty much re-building the building," says Spencer. The South Side-based and Black-owned general contractor Ujamaa and the Green ReEntry crew are repairing cracks in the façade, replacing roof framing, pouring a new concrete floor, reframing windows, and more. "We don't know how this building is still standing up," she says. "It would have been more cost-effective to demolish the building and start over."

The market renovation is part of a national effort in several cities trying to leverage the easy accessibility of corner stores and carryouts into providing more healthy food for vulnerable and food insecure populations with already elevated health risks. In Baltimore, for example, researchers with Johns Hopkins University piloted a program that promoted healthier food items via menu boards and provided new, healthier items and combo meals at carryouts in low-income neighborhoods. The Healthy Corner Store Initiative, from the Philadelphia-based Food Trust, partners with health organizations to perform in-store health screenings, provides training and technical assistance to store owners, as well as delivers direct aid aimed at increasing store capacity to sell healthy items. Much of the basic infrastructure they bring into stores (refrigeration, produce scales, blenders for smoothies) are what IMAN's Fresh Market is custom-designed to accommodate.  
There's not much data on how much these kinds of initiatives impact health outcomes, but a Johns Hopkins study of a store-based intervention in the Navajo Nation demonstrated better health results among residents: Research found that people who were heavily exposed to healthier foods stocked in local stores were five times more likely to reduce their weight. 
Covid-19 has only increased the importance of neighborhood food retailers in disinvested parts of American cities, where many residents must rely on poorly equipped carryouts, fast-food outlets, and dollar stores for essential supplies. The Food Trust has been helping corner stores convert their businesses to contactless pick-up locations, and supplying cleaning equipment and PPE. They're also just trying to keep store doors open and their customers afloat. "The biggest thing lately has been trying to get cash into the hands of store owners and customers," says Bridget Palombo, Food Trust senior associate. 

Maintaining neighborhood-based ownership of the healthy food supply (as well as other community health and wellness functions IMAN plans to offer) is critical because such institutions are less likely to shutter or move when faced with economic disruptions, whether from the pandemic or the recent uprisings against police violence and racism. In Chicago, the Fresh Market construction site rolled along undisturbed during the unrest and looting that ransacked much of 63rd Street after murder of George Floyd by police, and Nashashibi says that this "underscores for us the value of returning to a model that provides local ownership of businesses in the community."
A deeper community investment also comes with the Green ReEntry program, which sets formerly incarcerated people to work on IMAN building projects. Matthew Glass learned electrical engineering and carpentry through Green ReEntry. He spent a month incarcerated after a series of fraud charges five years ago. He was a minor at the time, but the charges were felonies, and stuck with him. He got off probation last year. "I couldn't really get employed anywhere," he says. "I didn't have any hope. I was going to go back to doing what I was doing." Learning skills and building the Fresh Market, he says, has "really given me a cheat code."
Now he's thinking about starting his own demolition business — a service with many potential customers in the area. The neighborhoods of Englewood and West Englewood both had more than 800 buildings razed since 2008. "I'm not proud to say it," says Glass, "but during the looting, I was able to make some money boarding up buildings."
Butler, of RAGE, is looking forward to a corner store that's "rooted [in] the community, shaped by community, and built by community," and with the involvement of Green ReEntry, she's likely to get it. She says IMAN's Fresh Market is unprecedented in her experience for its level of grassroots community leadership. "It's not just in theory," she says. "It's truly a community-led project."
Finding this level of agency in determining what comes into your neighborhood is new for many Englewood neighbors, Nashashibi says. "Anyone who's participated in a charrette can identify with the power of what it means to be given an opportunity to radically imagine what's possible," says Nashashibi. "Architecture and design [are] very empowering in that sense. But we would be less than honest if we didn't admit that very rarely do we see large subsets of the population, like those in Englewood, in those charrettes, in those designs, in that planning."
(
Corrects spelling of Chris-Annmarie Spencer's name in third paragraph.
)