Landlords Might Wipe Out a New Wave of Small Businesses
For many business owners, a break on rent could mean the difference between survival and failure.
By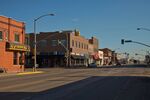 What might extinguish a significant chunk of America's struggling small businesses in the coming months? Their inability to pay rent. Or really, their inability to get landlords to negotiate on rent. The situation has been under the radar for the general public for since day one of the pandemic but remains an "enormous problem" for local business owners, says Mary Alice Scott, executive director of the Portland Independent Business and Community Alliance in Maine. When businesses closed temporarily, the fell behind on paying rent—most by at least three or four months, says Rolando Gonzalez, a senior staff attorney at the Legal Aid Society's Community Development Project in New York.  "The problem is, even after they opened back up, their revenues are down." The rent problem is "only going to get worse," he says.
A survey released in August by advocacy group Small Business Majority of more than 900 businesses in its network indicated 62% are struggling to make commercial rent or mortgage payments—up 6% from a previous poll released earlier in the month. The group warned a wave of commercial evictions and foreclosures could be on the horizon. A survey released in September of more than 5,500 business owners by Alignable, a business referral network, showed 32% will be unable to pay full rent on time in September, down from 33% in August. Minority-owned businesses struggled the most with rent, according to the survey.
Not every landlord can afford to give a tenant a break. Many have mortgages they need to pay. Others let space stay vacant so that they can reduce their taxes. If your landlord won't budge and you aren't making enough money to pay your rent, there's little you can do. But if your landlord is game to talk, you might have luck negotiating.

We've profiled two business owners dealing with existential rent concerns, and distilled advice from them, attorneys, and other experts:
More reading: 
Eviction Filings by Big Landlords Surged After Trump Issued Ban;
A primer on commercial leases and Covid-19;
An explainer on rent negotiation;
An interview with an experienced mediator.  


For more stories, strategies, and advice for Main Street business owners, check out the Bloomberg Businessweek Small Business Survival Guide.
Before it's here, it's on the Bloomberg Terminal.
LEARN MORE