Higher Earners Are More Likely to Be 'Shy' Trump Voters
New survey finds that people in households making $75,000 a year and more seem to play down their support for the president when polled by phone
By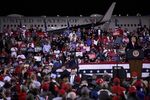 President Trump has often said that polls underestimate his support. When it comes to higher-income voters and college graduates, at least, that may well be true. A new study by Morning Consult, a survey researcher, finds that people in those two groups are less likely to state support for Trump when surveyed by phone than when answering questions online, where they presumably feel more anonymous.
However, Morning Consult couldn't detect if there was any "shy Trump" effect on the overall poll results. For voters of all incomes and education levels, the polling gap between Trump and Democratic nominee Joe Biden was two percentage points wider in Biden's favor by telephone than online, 12% vs. 10%. The number of people surveyed wasn't big enough to tell if that 2 percentage-point gap was a real difference or an artifact of sampling error, Morning Consult Chief Research Officer Kyle Dropp said in an interview. 
Voters in households earning $75,000 a year or more were 10 percentage points less likely to express support for Trump when surveyed by phone than when surveyed online, 42% vs. 52%. College education had a smaller effect. College grads were three percentage points less likely to express support for Trump by phone than online, 42% vs. 45%.
College grads and higher-income people who support Trump may conceal their preferences  because liking Trump is perceived in some circles as socially undesirable, says Dropp. "All studies of social desirability bias have suggested that those effects are larger among a more elite set," Dropp says. "Those who are more likely to overreport that they will vote, and that they watch TV news, are the elites."
One reason the "shy Trump" phenomenon didn't have a big effect on overall poll results is that people at the other end of the income scale skewed the opposite way. In households earning less than $35,000 a year, people were more likely to support Trump when surveyed by phone than when surveyed online, 39% vs. 33%. Among respondents with less than a bachelor's degree, there was no difference in how people responded by phone vs. online.
Morning Consult Holdings Inc. surveyed more than 2,400 likely voters from Sept. 10 to Sept. 14. All the surveys began online. Some people were randomly assigned to finish the surveys by phone, while others continued online. The results combine people who support the candidates with those who simply lean toward them.
On hot-button social issues, Morning Consult found a big gap between how people answered by phone vs. online.  For example, asked if there is discrimination against Black Americans, 82% surveyed by phone said yes  but only 73% surveyed online said yes. 
Cloud Research LLC of Queens, N.Y., found in a study released last month that Republican voters were more likely than Democrats to say that they would not give their true opinion in a telephone poll about the presidential candidates.

Peter Coy
Bloomberg Businessweek Writer
Peter Coy is the economics editor for Bloomberg Businessweek and covers a wide range of economic issues. He also holds the position of senior writer. Coy joined the magazine in December 1989 as telecommunications editor, then became technology editor in October 1992 and held that position until joining the economics staff. He came to BusinessWeek from the Associated Press in New York, where he had served as a business news writer since 1985.
Before it's here, it's on the Bloomberg Terminal.
LEARN MORE