Economics
Crisis Rock Stars Rate the World's Response to Covid-19
Veterans of previous financial calamities discuss whether Main Street, or just Wall Street, is getting a helping hand.
By and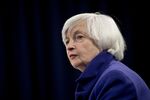 Subscribe to Stephanomics on Apple Podcasts
Subscribe to Stephanomics on Pocket Casts
Subscribe to Stephanomics on Spotify
This week's episode of Stephanomics comes to you from the third annual Bloomberg New Economy Forum, where global leaders have gathered for a virtual discussion of how to solve the world's biggest challenges, not least of which is the coronavirus pandemic.
Stephanie Flanders brings together former Fed Chair Janet Yellen, ex-Bank of England Governor Mervyn King, former Reserve Bank of India Governor Raghuram Rajan and ex-U.S. Treasury Secretary Lawrence Summers to analyze the unprecedented economic response to Covid-19. They debate whether world leaders have done enough to help Main Street instead of just Wall Street, and whether global institutions are being too timid this time around. 
Flanders is then joined by Ireland Prime Minister Micheál Martin, who talks about the future of trade as Brexit approaches, and where exactly U.S. President-elect Joe Biden's Irish grandparents came from.