Reinvention
Trump Era Ends on a Sour Note for a Wall Street Power Couple
By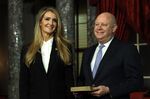 The Donald Trump era is ending badly for the Wall Street power couple of Jeff Sprecher and Kelly Loeffler.
First, the New York Stock Exchange, owned by Sprecher's Atlanta-based Intercontinental Exchange Inc., flip-flopped -- twice -- on whether to delist several major Chinese companies, as the Trump administration has demanded.
Read more: NYSE Reverses Course Again With Plan to Delist Chinese Telecoms
Then Loeffler, a former ICE executive, lost her U.S. Senate seat in Georgia to Raphael Warnock, a defeat that -- coupled with an expected victory for Jon Ossoff -- will hand Democrats control of the upper chamber.
Read more: Democrats Close to Senate Control Fueled by Black Voter Turnout
The double blow cost more than bruised egos. The couple spent $23.7 million on Loeffler's ill-fated campaign, according to the Center for Responsive Politics. Confusion over NYSE's move drove down the share prices of three big Chinese telecommunications companies, at one point shaving a combined $12 billion off their value.
Still, it hasn't all been recent bad news for the pair: the Bloomberg Billionaires Index last week introduced Sprecher as the latest entrant to the 10-figure club.