How the Capitol Insurrection Should Have Been Handled, According to Police Leaders
Current and former police chiefs explain how crowd preparation is supposed to work — and why Wednesday's 'Stop the Steal' riot was such a dismaying contrast.
By and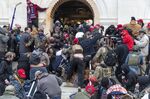 Among the many questions still lingering after the insurrection at the U.S. Capitol Wednesday: How did rioters get so far? As lawmakers seek to better understand the politics of why the Capitol building was left relatively undefended, critiques of the police response are flooding in from law enforcement officials. Under scrutiny, the chief of the Capitol Police Department, a federal unit that serves the Capitol building and grounds, has resigned; so did the sergeants-at-arms for the House and Senate. 
Several current and former police leaders explained to Bloomberg CityLab the logistics of how preparation for a major rally or protest typically works — and why Wednesday's preparation was such a dismaying contrast to typical practice.
"When you look at how easily our nation's capitol was stormed by hundreds of miscreants and hundreds of criminals, who defaced and defiled and stole from the People's House ...  despite the warnings and despite the clear indications that this activity was going to occur, it is an absolute monumental historical failure of the Capitol Police and it's a failure of leadership," said Art Acevedo, Houston's chief of police and the president of the Major Cities Chiefs Association. "It's a failure of imagination, it's a failure of planning, it's a failure of execution."
For one thing, police leaders say, the process of preparing for a rally — even one rumored to be small — should have begun days earlier.
"You listen to the president's intent before the rally, and then what was said at the rally, there was absolutely no question that the Capitol was the focus and so you had time to prepare for that," said former Salt Lake City chief of police Chris Burbank, vice president of law enforcement strategy for the Center for Policing Equity. "Why was there not a wider perimeter set up? Why were there not more people set up in place that you would normally do if you have advance notice?"
Typically, protests at the Capitol have "free speech zones" set up where people are allowed to demonstrate, to facilitate crowd control and try to prevent the need for more aggressive policing. But Acevedo said the crowd control measures were far from sufficient. Barricades that police first put up on Thursday after the the insurrection had occurred should have been put up three days earlier based "on even the most rudimentary threat assessment," he said. 
Officials also should have coordinated days in advance so that other surrounding police departments were already on call before the rally began, Acevedo and Burbank say. "Unfortunately, the federal response was 24 hours too late," said Avecedo. "As a result, the entire law enforcement community, I think, has a black eye." 
The most vivid example of this is that the Capitol Police reportedly rejected offers from the Pentagon to send the National Guard in advance. "No, it's not normal to turn down help," said "Butch" T. Jones, who served as a Capitol Police officer for 37 years, in an interview with MSNBC's Joy Reid. Jones said deploying other regional and federal law enforcement agencies in advance of any major crowd event was a matter of course. "Something went wrong because normally we would have the help. No one would have crossed that line or even got close to the steps of the Capitol."
When it comes to crowd control, said Acevedo, you typically want to be ready for the worst-case scenario. "In this case, I'm not sure we were even prepared for best-case scenarios. I don't think they could have managed a lawful crowd with the footprint that we saw," he said, let alone an unlawful one. 
One explanation for not deploying the National Guard has been to avoid the appearance of a militarized force, an image that's been criticized in other recent protests. Others allege that a muted show of force was influenced by the president's encouragement of demonstrators. Regardless, the failure to prepare for disruption from a group predicted to be largely white and conservative is particularly glaring when compared to the heavy law enforcement presence deployed at past D.C. protests.
"It didn't seem like there was that forethought as to 'what if,'" said Burbank. "Is it because of what we believed the crowd to be or who the crowd was?"
That's a question many have been asking. Compared to their aggressive response to protesters demonstrating for racial justice and against police brutality, officers were observed using a gentler touch with some members of the violent mob, giving them directions and possibly even opening barricades to let them inside. Some 289 arrests were made in D.C. on June 1 during a largely peaceful Black Lives Matter protest where federal officers tear-gassed demonstrators; only 68 arrests were made as of the morning after the riot by the D.C. police, many of them after the 6 p.m. curfew instated by Washington, D.C. Mayor Muriel Bowser earlier that day. The Capitol Police also arrested 14 people on Jan. 6, mild enforcement compared to other recent protests, the Washington Post reported. 
"I think we all saw images of some Capitol police officers on the Capitol grounds opening up the barricades and letting people through," said Acevedo, "which only leads to embolden people." 
President-elect Joe Biden was among the many that pointed out that the response would have been much different if the insurrection hadn't been overwhelmingly white and male. "I think if that was a Black organization, they would have never gotten to the steps," said Jones. 
Acevedo says that the biases in policing could have influenced the department's preparation, or lack thereof. "We had a predominantly conservative crowd — that's the assumption — a white crowd, and so they figured hey, look at all these 'Blue Lives Matter' flags," said Acevedo. "Somehow 'MAGA' and Blue Lives Matter have come together." 
The assumption that managing a purportedly pro-police crowd would be easier was soon proved unfounded, said Acevedo. For some, the Blue Lives Matter slogan has become more associated with the repudiation of the Black Lives Matter movement than support for law enforcement. "What they found out, it's a relationship of convenience for some of these people. Police officers learned the hard way that we're part of government, and that these folks have no respect," he said.
The degree to which individual officers may have contributed to the mayhem remains unknown. In a public Facebook post, one Metro D.C. police officer said that off-duty police officers were among the rioters, "flashing their badges and I.D. cards as they attempted to overrun the building," Politico reported. Outside of D.C., some prominent police figures, including Chicago's Fraternal Order of Police president John Catanzara, defended those who stormed the Capitol. (He's since apologized and his comments were condemned by the national FOP president.)
But while some Capitol Police officers were seen appearing to let people pass as they approached the Capitol, many others attempted to thwart the attackers. More than 50 Capitol Police officers were injured during the riot; one, 42-year old Officer Brian D. Sicknick, was killed.  
Acevedo faults leadership rather than individuals as the problem. "I saw a lot of Capitol Police officers completely outnumbered, courageously trying their best to protect the capitol and the members of Congress," said Acevedo. Capitol Police Chief Chief Steven A. Sund, who is now set to resign, also praised the efforts of his team as "heroic" in a statement. On a call with a National Journal reporter, Representative Mike Garcia drew a causal relationship between the apparent overwhelming of the Capitol Police and calls to defund the police — but the more than 2,000-member department's funding increased by more than $50 million this year.
Ultimately, the officers charged with protecting the Capitol on Jan. 6 were in an extraordinary situation, because, unlike previous Capitol protests, this one was explicitly and implicitly endorsed and encouraged by the sitting president. Burbank recalls feeling similarly conflicted when the then-mayor of Salt Lake City, Rocky Anderson, hosted a protest against George W. Bush in 2006. "How do you police the mayor's protest?" he remembers thinking. "That speaks to the wholly irresponsible action [from someone] that does not understand the role that they're playing."
Such events put police protecting the property in a particularly unusual position. 
"This was the president of the United States who encouraged the groups to go do this," said Burbank. "How does that play in to the Capitol Police response, to the FBI response, to the MPD response, when it's the president who said go do this?"
(
Adds number of Capitol Police arrests.
)