Why Airbnb Is Canceling Its D.C. Reservations for Inauguration Week
Residents fearful of violence and intimidation in their neighborhoods pressured short-term rental platforms to take aggressive action.
By , , and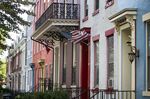 Darrell Fogan has led a running team from his home in Washington, D.C. since the early 1990s, but when Trump supporters started showing up in his Shaw neighborhood last week to stay in rented homes, he canceled his group's daily morning run for the first time ever.
Fogan, a Black swimming instructor at nearby Howard University, says he was yelled and cursed at on a public street for wearing a mask, and feared for the safety of his multiracial group. "I said, 'I'm not running,' and then my runners said, 'Me too.' They said that the Trump supporters were too wild."
Across D.C. residents bristled on social media as they spotted people wearing "Proud Boys" attire returning from the Jan. 6 riot at the Capitol to their rented rowhouses. After a local campaign pressured Airbnb to take aggressive action for the week of inauguration and FBI intelligence warned of armed demonstrations in 50 states and D.C., Airbnb announced a new policy Wednesday: It would cancel all reservations in the Washington, D.C. area during the week of the inauguration, and block new reservations. The financial cost of the announcement will largely fall on Airbnb, not individual hosts losing business: The company will reimburse hosts for the money they would have earned through canceled reservations. 
"We are continuing our work to ensure hate group members are not part of the Airbnb community," the company said in a statement announcing the new policy. It cited intelligence reports about armed militias traveling to Washington, as well as calls from the leaders of D.C., Maryland and Virginia that all Americans should stay away from Washington during the week of inauguration and celebrate virtually instead.
In the days before the announcement, a local activist campaign called on Airbnb to help hosts voluntarily cancel their reservations during inauguration week. Shutdown D.C., a collective behind several large-scale anti-fascist protests over the last year, sent the company a list of asks Tuesday that would foster such cancelations. Under the banner #DontRentDC, the group is also calling on hotels to close for the duration and pay their workers to stay home.
"Thousands of people traveled to D.C. to attempt a violent insurrection that left five people dead," reads a Jan. 12 letter from Shutdown D.C. addressed to Airbnb officials. "Many of the individuals involved in this attack stayed at Airbnbs and made our communities their home base for violence. Neighbors have shared stories of vandalism and harassment in their communities on the day of the Trump rally."
Short-term rental operators such as Airbnb face new scrutiny in an era of pandemic parties and riot tourism. Tensions between residents and short-term rental hosts or investment property owners predate the current security crisis, and Airbnb acknowledges that unhappy neighbors and the local lawmakers who represent them are the biggest challenge to the company's bottom line. But residents of the District were especially angry to see Trump supporters celebrating on D.C. streets after the Capitol was overrun and a curfew took effect.
"This is much more than just about the violent threat it presents to the Capitol, but also to the people surrounding this historically Black city," said Steven Renderos, the executive director of MediaJustice, which advocates for equity in technology and media.
But Renderos also warns that a blanket ban on short-term rentals could have unintended consequences, potentially affecting housing-insecure people in need of short-term lodging.
Airbnb's announcement is the latest in a series of steps it has taken since the Jan. 6 insurrection to adjust its policies. Earlier in the week, it released a "Capitol Safety Plan", pledging to expand and enhance existing safety protocols. It is also cross-referencing guest accounts with arrest logs from Jan. 6. and with lists of known hate groups, and says it has now banned numerous such individuals from its platform. 
The increasingly aggressive approach comes as other tech platforms take steps to quell violent speech or insurrectionist organizing on their platforms, with Twitter permanently suspending Trump as well as Apple and Google taking the social networking platform Parler, popular with white nationalist groups, offline.
"It's a courageous move by Airbnb to ban the people involved in the violent attack on the Capitol," Renderos said. "It's significant that Big Tech right now in this moment is reacting to a violent insurrection by taking steps to take accountability for the mistakes they've made in not taking these issues more seriously before."
He sees it as a continuation of the reckoning over racism on the platform that Airbnb started with a 2016 civil rights audit.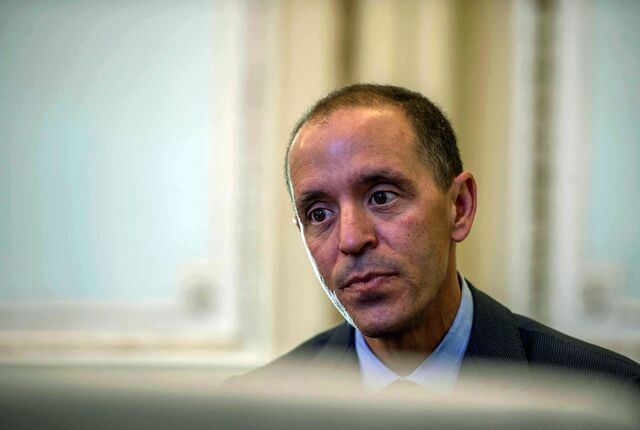 One of the reasons white supremacists may be particularly hard to root out is because of Airbnb's own anti-discrimination policies. Hosts can't see the faces or profile photos of the people they will be renting to until after a guest's booking has been confirmed. And Airbnb has an "Instant Book" feature that allows bookings to happen without a host's review or approval. Airbnb created both of those features in response to civil rights lawsuits and audits that found that hosts had too much leeway to use guests' photos to decide not to rent to them based on their race, sex or other personal characteristics.
That's one reason why civil rights and environmental attorney Leslie Fields supported the kind of blanket cancelation policy Airbnb announced today.
"I mean no one's going to admit, 'Hey, I'm in the Aryan Nation,' or 'I'm with the Proud Boys,'" says Fields. "They're not going to say to their hosts, 'Hey, I'm here to disrupt and continue the insurrection.'" Some hosts may also be concerned about putting their own safety at risk by talking to potential guests about their intentions for their stays in D.C.
Fields, a Black woman, says she has felt the pressure personally in recent weeks of living outflanked by rowdy Trump insurrectionists in the Capitol Hill neighborhood where she's lived for decades. She watched her community gradually change in demographics over time from a mostly Black neighborhood to one that is now majority-white. But she says her gentrifying white neighbors have been nowhere near as problematic as the new temporary white neighbors.
"There have been all of these white people stumbling and bumbling around here and you can tell that they're not from here because they don't wear masks," says Fields. "All the white people in my neighborhood wear masks, and walk their dogs, and walk their little babies, and they're friendly, and wave and say, 'Hi,' but these other white folks — first off, you can tell they don't walk where they are from, so they're just stumbling around and being aggressive because they don't understand" the community.
After raiding the capitol, the Trump rioters came back to their rentals with law enforcement trailing them, meaning police cars were whipping up her street and helicopters flying over her home. Right now, an armada of military tanks, jeeps, Humvees and street-blocking buses are staged outside of the D.C. Armory near her home, ready for more potential riots. Fields wrote on her Facebook page, "We're under siege."
Inauguration rentals can be big business: During President Barack Obama's first inauguration, Craigslist was flooded with rental listings posted by D.C. residents looking to flee town and cash in on their empty apartments. This inauguration will be different.
"Sadly, I wish we weren't having this conversation," says Fields. "We should be talking about accommodating people coming here from out of town to go to some balls, and getting tickets and having fun — all of these people coming up here to sleep on my couch. But we've been deprived of that, and I resent it."