The Capitol Rioters Are Being Rounded Up. But Will They Face Real Charges?
Trump's executive order on protecting federal monuments spelled out harsh sentences for Black Lives Matter protesters. Prosecutors could use it on the mob that stormed the Capitol.
By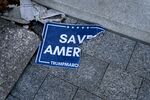 Federal authorities made some of their first public statements on Tuesday regarding the far-right rioters who stormed the U.S. Capitol last week in an effort to overturn the presidential election. First up was President Donald Trump, who, in his first comments to reporters since the Jan. 6 attack on Congress that he and his allies encouraged, blamed Black Lives Matter.
"If you look at what other people have said, politicians at a high level about the riots during the summer, the horrible riots in Portland and Seattle and various other places, that was a real problem," Trump said, answering questions from reporters on Tuesday. The president described the incendiary speech he delivered to his followers on Jan. 6, in which he urged them to march on the Capitol — using the word "fight" or "fighting" more than 20 times — as "totally appropriate."
The president's remarks underscore the double standard that Trump has consistently applied to progressive activists versus his own followers ever since he said there were "very fine people on both sides" at the white supremacist Unite the Right rally in Charlottesville, Virginia, in 2017.
U.S. prosecutors also issued their first public statements to reporters on Tuesday, and they promised to bring the hammer down on the insurrectionists. FBI Washington Field Office Assistant Director Steven D'Antuono and U.S. Attorney for the District of Columbia Michael R. Sherwin said that they have opened more than 170 case files on suspects involved in the Capitol attack. A strike force will pursue "significant felony cases" connected to "sedition and conspiracy," Sherwin said. "We're looking at and treating this just like a significant international counter-terrorism or counter-intelligence operation."
Describing the Capitol grounds inside and out as a "crime scene," Sherwin said that the investigation would eventually spawn hundreds of cases. The prosecutor also addressed what he described as misconceptions about the severity of the charges authorities would be seeking: "The initial charges we're filing, some of these misdemeanors — this is only the beginning," he said. "This is not the end." 
The lack of preparation by federal agencies has already come under terrific scrutiny. One day before the attack, an FBI office in Norfolk, Virginia, used the word "war" to describe the threat level, according to the Washington Post. Despite advance warning, Capitol Police were hopelessly outnumbered at the Jan. 6 "Stop the Steal" rally, which the president promoted and appeared at, and their calls for reinforcements were initially rebuffed. The security breakdown stands in sharp contrast with the aggressive policing apparatus assembled for racial justice demonstrations in June, which included deploying National Guard troops across D.C., and the efforts the Trump administration pursued to ward off symbolic violence against monuments and memorials.
On June 26, for example, Trump signed an executive order establishing penalties of up to 10 years in prison for violators charged with damaging federal property. The order, which came in response to Black Lives Matter protesters toppling or vandalizing Confederate memorials and statues linked to white supremacists, framed the people toppling statues across dozens of cities as a coordinated effort among a national network of anarchists and socialists — "agitators who have traveled across State lines to promote their own violent agenda."
After the Jan 6 attack, Trump did not use similar language to characterize the members of the mob that sacked the Capitol.

The disparity in approaches has not gone unnoticed by some members of Congress. "This past summer, the Trump administration activated the National Guard to defend D.C.'s monuments — including those honoring Confederate leaders — in the wake of protests against racial injustice and police brutality," said California Rep. Ted Lieu, who will serve as one of the House managers for Trump's second impeachment, in a statement to CityLab. "Despite the fact that the overwhelming majority of those protesters were peaceful, the administration decided it was more important to activate the Guard to defend stone relics of white supremacy than to defend Members of Congress last week from armed white supremacists."
The presidential missive on monuments and memorials was not purely symbolic: It led to consequential shifts in government procedures. Lawfare, a blog which features prominent experts on national security law, obtained evidence for a domestic surveillance program authorized by the Department of Homeland Security to collect intelligence on protest activities related to monuments. The executive order was further cited as the authority for the deployment of federal agents to police protests in Portland, Oregon, over the objections of local and state leaders.
Could Trump's order eventually be deployed by prosecutors against his own mob? So far, the rule has surfaced on social media as an unlikely path to karmic justice, but no one in authority has yet broached the possibility.
There's no reason why not. After all, former Attorney General William Barr found in the executive order the justification for "Operation Legend," the sweeping Department of Justice initiative that stationed unidentified federal troops in Portland in July. While Sherwin has pledged that some of the Jan. 6 rioters will face sedition charges, which carry sentences of up to 20 years, at least some of the charges for still-quite-serious crimes will fall short of conspiracy. Will these rioters see the same legal consequences as protesters who spray-painted Jim-Crow-era statues of U.S. traitors who fought for slavery? 
Police and prosecutors have tremendous discretion in how the crimes of the Capitol rioters will be weighed. Critics who have complained that prosecutors have dogged Black Lives Matter protesters with punitive felony charges for acts of civil disobedience dating back to the police shooting of Michael Brown in Ferguson, Missouri, in 2014 fear that Trump's supporters will be treated less harshly.
"Black people's bodies are policed more heavily, always, than everybody else," says Carole Boyce Davies, professor of English and Africana Studies at Cornell University — and that applies to law enforcement inside and outside the courtroom, she says.
Wadie Said, professor of law at the University of South Carolina and a former public defender, agrees. "The Capitol riot raises the issue again of police and prosecutorial discretion," he says. "Law enforcement in general and also prosecutors have an incredible, almost unreviewable amount of discretion to decide when to try or arrest someone and charge someone."
To look at just one common citation: Several people taken into custody by the FBI, Capitol Police and Metropolitan Police Department face "destruction of government property" charges for their roles in the attack. There are all sorts of charges about destroying government property in the federal criminal code, which gives prosecutors broad leeway in how they choose to prosecute the offenders, according to Said. "It's up to the police to arrest and charge a person, and prosecutors to take those charges forward and make them formal," he says. "We as the general public don't have a say in that. That's not something that's reviewable. You go to court and insist that they enforce the law or not enforce the law." 
Many more people who face lesser charges — curfew violations, for example, which accounted for dozens of arrests made by local police in D.C. the night of Jan. 6 — may not see the inside of a courtroom at all. "Oftentimes in cases involving mass protests, people are given summonses and citations and lower-level charges," Said says. "Only those who engage in actions deemed to be sufficiently serious are charged with crimes and then prosecuted. How that plays out here, when you have a large degree of lawlessness, and many people engaged in this type of destructive and criminal behavior, it's going to be interesting to see if the system has the capacity to deal with it."
In D.C., prosecutions for violent entry, disorderly conduct and other serious charges will flow through Sherwin's office, which is federal, not local. (D.C. Attorney General Karl Racine has said he is looking at charging Trump with inciting violence under local code once the president leaves office.) However, Sherwin said that criminal cases stemming from the Capitol attack will be filed with local courts, superior courts and federal courts.
As critics note, sentences would have to be hefty indeed to stack up with far-reaching law enforcement actions against Black Lives Matter protesters, including a group in Utah who briefly faced life sentences for vandalizing property with red paint. To those concerned that the Capitol attackers, like other recent instigators of right-wing anti-government violence, will ultimately evade legal reckoning, Sherwin counseled patience.
"This is not going to be solved overnight. It's not going to be solved within the coming weeks. It's not going to be solved within the coming months," Sherwin said. "Everyone is in for the long haul."