Economics
A Sneak Preview of Janet Yellen's Treasury
A familiar face in Washington, she is back to take the reins of the U.S. economy.
By and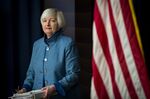 Subscribe to Stephanomics on Apple Podcasts
Subscribe to Stephanomics on Spotify
The U.S. doesn't just have a new president this week. The world's largest economy is also getting a new Treasury Secretary, albeit a familiar face, in Janet Yellen. Host Stephanie Flanders talks with Bloomberg's U.S. Treasury reporter Chris Condon, who listened in to Yellen's confirmation hearing for a sneak preview of what her reign at 1500 Pennsylvania Avenue might look like.