Why Housing Insecurity Is a Sleep Killer
Being evicted or falling behind on rent takes a toll on the amount of sleep people get, a new study says — a hidden health issue with links to the pandemic.
By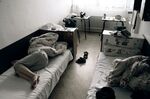 Shams DaBaron, 51, has struggled with homelessness, he says, since he was 10 years old. On a bench in Harlem; on friends' couches; in the New York City shelter system; next to the mother of his children; and since June, in the Lucerne Hotel on the Upper West Side — wherever he sleeps, it's rarely uninterrupted. 
Many nights, DaBaron has bad dreams, and many mornings, he wakes up feeling disoriented or lethargic. He's physically safer in his private hotel room than in the shelter, he says, but just as restless. He pushed to eliminate the Lucerne Hotel's 3 a.m. welfare check, which kept him on edge, but he still gets a knock on his door every night at midnight, and is woken up for breakfast at around 6 a.m. Usually, he's been awake for an hour or so anyway. "For somebody that's suffering from PTSD like me, or is a light sleeper, I stay up for the knock so I don't get startled," he said. "I feel that my physical health is compromised because of the lack of sleep."
For DaBaron, who has channeled his waking energy into being an advocate for homeless New Yorkers after a life-threatening bout of Covid in late March, his housing troubles and his sleeping troubles feel closely connected. And new research suggests that they are.  A study by RAND Corporation published earlier this month shows that people who were unable to pay their rent or mortgage on time slept 22 minutes less a night than those who didn't. Those who were forced to move or evicted because they could not pay their rent or mortgage slept up to 32 minutes less.
The data comes from the California Socioeconomic Survey, a longitudinal study of more than 1,500 people from Alameda, Fresno, Los Angeles, Riverside, Sacramento and Stanislaus, who were receiving California welfare benefits. Of that pool, selected using criteria developed by the California Department of Social Services with the original goal of understanding the effects of welfare on California children, around 1,000 agreed to participate in the full three-year study, answering a series of questions about their economic status and their physical and emotional wellbeing. From 2015 to 2016, researchers collected baseline data; then, from 2016 to 2017, they asked people to quantify on average how much sleep they got in the previous month, and how they'd rate its quality. They asked again from 2017 to 2018, and looked at any changes in sleep among groups of people who'd slept around the same amount during the first two waves. 

Controlling for a myriad of other factors that might impact sleep, like employment hours, debt and family structures, the researchers found that experiencing housing precarity between the second and third surveys was enough to shave precious minutes off each night. 
"We're talking about a pretty poor population that is similar across a whole host of characteristics," said Robert Bozick, a senior fellow at the Kinder Institute for Urban Research at Rice University and a co-author of the research. "The only thing differentiating the groups is housing insecurity."
RAND researchers didn't study participants' brains or use digital sleep monitoring, instead relying on self-reported times and a subjective rating system for whether they'd consider their sleep "good." But its findings are novel, the researchers say. Though they build on a body of work linking mental health, sleep quality and poverty, there has only been one similar study specifically isolating housing insecurity: recession-era research out of the Centers for Disease Control and Prevention, which found that in 2009, 37.7% of those who experienced housing insecurity in the past year had reported "insufficient" sleep, compared to only 21.6% of those who didn't. 
Even a half hour of sleep deficit can snowball into longer-term physical and mental health problems. "What we know from sleep literature is that the effects of sleep are cumulative," said Bozick. "Thirty-two minutes a night, one night, doesn't seem like that big of a deal, but the cumulative pattern of poor sleep is where these really have their strongest effects."
Being comfortable enough to sleep soundly depends in part on external factors — like heat, cooling, bedding, noise and privacy — that can be in short supply for those experiencing housing insecurity. As is the case with many poverty-related pressures, there are also mental health issues, including chronic stress and feelings of depression and "vigilance," which can in turn disrupt sleep. Eviction compounds those psychological symptoms with physical chaos, triggering frequent moves from location to location, into spaces where people have little control over the conditions and the quality of their surroundings. 
That's why sleeplessness continues to afflict DaBaron, even as his circumstances frequently change. "I don't know if part of my issue stems from just never feeling comfortable in my own space," he said. 
While the study predates the Covid crisis, the pandemic has focused new attention on the links between housing instability, poor sleep and serious health problems. Regularly getting less than six hours of sleep per night has been associated with obesity, hypertension, diabetes, having a stroke and dying prematurely, said Michelle Miller, who leads the University of Warwick's Sleep, Health and Society Programme. These physical risk factors have also become comorbidities with coronavirus. "Obesity, and diabetes have also been associated with an increased risk of poor Covid health outcomes," Miller said in an email. Sleep also bolsters the immune system, and "obtaining sufficient sleep pre and post [Covid] vaccination is important for a good immune response."
Taking melatonin, the sleep hormone, has been shown to stabilize the immune system and some scientists suggest it could minimize the odds of contracting a severe — or deadly — case of Covid. Other scientists, like Feixiong Cheng, a data analyst at the Cleveland Clinic, have hypothesized that it's not just melatonin that eases symptoms, but sleep itself, The Atlantic reported. 
Insomnia and brain fog are known symptoms of the coronavirus, both neurological responses to the virus itself, not just a side effect of the stress and isolation it has caused. (DaBaron reports that his sleep has been far more erratic since recovering from Covid.) But as eviction filings rise, scattershot eviction bans approach their expiration date, the fear of falling behind on payments or losing housing entirely has reached pandemic proportions, too. That anxiety can take a toll on sleep and overall health, Bozick says, and it can only get worse if those threats are made real.
"There's a potential reciprocal relationship here, that you're experiencing stress because of the pandemic, which in turn, is shaping your daily environment in ways that compromise your immune system, that make you more susceptible to this illness," said Bozick. "These economic and health stressors work in combination to compound one another."
For those who have already lost housing, Covid has made getting a new place to live or finding employment harder. And securing short-term lodging in hotels — a measure that was designed to prevent Covid outbreaks in congregate shelters or on the streets — has in some cases had the unintended consequence of disrupting the stability and control over a daily schedule that independence or companionship may have offered. 
Even before the pandemic, and before she became homeless in 2019, Tracy Nuzzo often struggled to get enough sleep. She worked as a flight attendant on private planes, so her body clock was always somewhat off, dealing with time-zone changes and jet lag. She quit flying in 2010, she says, and settled down in New York City, working in restaurants and as a bartender. But late in 2018, the roommates she was subletting an apartment with fell behind on their rent; rather than go to housing court or be evicted, she moved out. Living paycheck to paycheck, she couldn't afford the first and last month's rent plus security deposit for a new apartment.
"I started to feel like I was treading water," she said. "The difference between me falling through the cracks and staying housed was probably 5 grand."

By mid-April 2019, Nuzzo, who is 53, was sleeping on the streets, where she met a partner who made her feel protected through the night; together in East Harlem, she remembers sleeping deeply. But in October 2019, she was offered the opportunity to transition into stable housing and stay in a low-threshold shelter program called "Safe Haven," in the South Bronx. There, Nuzzo was paired with a roommate who was deemed high risk, meaning they were both woken up once an hour throughout the night. There was no lock on the door, and she was briefly separated from the two bunnies she cared for as pets.
"I might have gotten one or two uninterrupted hours in that time, but it wasn't good quality sleep," she said. "I ended up feeling more tired than when I went to bed."
In August 2020, Nuzzo, like DaBaron, was moved into a private room, in an SRO hotel. But the anxieties and the insomnia continue. Isolated in a windowless room and unable to receive visitors, she fears contracting Covid in the bathroom she shares, and worries about ever getting another restaurant job or being able to afford her own apartment. The path to stable housing she was promised has felt more like a setback. A therapist has prescribed her Klonopin, Trazadone and Ambien, but Nuzzo doesn't want to get addicted, so she keeps her doses low.
"Sometimes I think I'm asking a lot of these pills," she said. "Sometimes it works really, really well, and sometimes my mind is fighting it."