Winter Storms Bring Deadly Risks for the Homeless
In cities like Houston and Portland, many unsheltered people sleep outdoors, leaving them particularly vulnerable during this week's extreme cold.
By and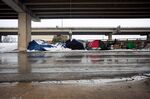 On Sunday afternoon, people started lining up to get into Houston's George R. Brown Convention Center — a shelter of last resort for some 800 people — six hours before the facility opened. Temperatures plunged over the weekend in Texas, bringing snow, ice, and widespread power outages to several million households across the state.
But the most vulnerable Texans were those who had no homes. In Houston, Dallas, San Antonio and other cities, social workers and volunteers fanned out to search for unhoused people and usher them into emergency warming centers; when community shelters reached capacity, churches and nonprofits opened their doors to those seeking refuge. Not all found shelter: On Monday, a Houston man was found dead in a van after he declined to be taken to a warming center; another man was found dead on a highway median.
Houston may have averted an even greater disaster: Since October, advocates have helped to place more than 1,000 people facing homelessness into permanent housing, part of a joint effort by Houston, Harris County and the nonprofit Coalition for the Homeless of Houston to address severe housing precarity in the face of the pandemic. Before, the majority of those people were living in tents or sleeping on the streets.
"We should never lose a homeless person. We should never have a death," says Mike Nichols, president and CEO for the Coalition for the Homeless of Houston. "We should be more committed than ever after a cold week like we've had in this disaster to move people into permanent housing."
Homeless response teams snapped into gear this week across Texas, taking many of the same steps as they would to prepare for a hurricane, but over a much broader area: the entire state. Facing unforgiving weather and severe power outages, advocates improvised to coordinate through the chaos. Katie Vela, executive director for San Antonio's South Alamo Regional Alliance for the Homeless, got trapped in the snow while she was driving to volunteer at an emergency shelter.
Yet in Texas and other states struck by uncharacteristically severe winter weather, some of the best tools to address the current crisis are going unused. On Jan. 21, President Joe Biden signed an executive order directing the Federal Emergency Management Agency to fully reimburse local and state governments for the costs of moving unhoused people into hotels and motels during the pandemic. Austin, Dallas, Fort Worth and Houston have taken the federal government up on the offer, but many cities and counties in Texas have not. 
"It's frustrating that we don't have more communities taking advantage of using hotel rooms to house people," says Eric Samuels, president and CEO of the Texas Homeless Network, the lead agency for the homeless response system across 215 small and mid-sized counties in Texas. He points to a lack of awareness about the 100% reimbursement policy as one reason why more communities aren't on board. Partisan reluctance to accept federal aid might be another factor. And plain bad luck: Biden's expansive policy wasn't even a month old when the storm hit. "Especially right now, that could be a lifesaver."
Very few cities in Texas were prepared for the blizzard conditions that smacked the state this week. The mild Texas climate means that a greater proportion of its unhoused population sleeps outdoors. In typically swampy Houston, for example, more than 40% of its unhoused population is unsheltered, per the most recent point-in-time count. Houston can thank recent hurricanes and frequent flooding for its fast-acting emergency response. Nothing like that exists for San Angelo, a sleepy city in West Texas bordering the Chihuahuan Desert that caught more than 10 inches of snow on Sunday, shattering a 102-year-old record. Salvation Army closed the only emergency shelter in San Angelo in 2019 for lack of funding.
Texas isn't the only place in the U.S. getting a fresh dose of winter misery: The East Coast and Mid-Atlantic is experiencing widespread snow and sleet, while extreme weather left hundreds of thousands of people without energy or heat over the weekend in the Pacific Northwest. That includes large swaths of the Portland area, where days of powerful winds, cold air, icy rain and a foot of snow posed a unique safety risk to thousands of people living in tents, vehicles, makeshift structures and other outdoor settings. Multnomah County's last official point-in-time count in Jan. 2019 indicated that Portland and its surrounding area had more than 2,000 unhoused residents, a population that had grown 22% since 2017.
In the days ahead of the storm, government workers and advocates distributed blankets, tents, jackets, footwear and other materials to unsheltered people. The county and city Joint Office for Homeless Services opened three shelter locations for sleep and warming with a total capacity of nearly 500 beds as of Monday night, according to a press release. That is more space than the city and county has offered for severe weather situations in past years. Still, some activists say that the situation revealed deeper gaps in government services.
"I think the city failed the citizens again by not helping houseless people learn about how to survive in different types of weather," Ibrahim Mubarak, the executive director of Right 2 Survive, a local nonprofit that advocates for the homeless community. Mubarak said that agencies should offer training and guidance when they distribute warming materials, such as how to insulate tents from rain and snow, or how to safely create heat — an issue that led to at least three fires last week, one of which turned fatal after a shelter caught fire from a DIY propane device.
Electricity outages especially are putting greater strain on resources for the homeless, since blackouts are effectively adding to their ranks. The growing number of people turning up at emergency warming centers in Texas cities now include those who have lost electricity or running water. Nearly 600 public water systems have reported disruptions, affecting some 12 million people. Many of those receiving boil-water notices have no power available to do so. Several deaths reported in Texas so far have been linked to suspected carbon monoxide poisoning and fires in homes where families were using generators and gas appliances indoors, running vehicles in closed garages or trying to warm themselves with faulty fireplaces. 
Precise figures for the number of people in crisis right now are hard to know. Houston's 2020 point-in-time count identified about 3,800 people facing homelessness, with about 1,600 of those people unsheltered. This year's count was interrupted by the pandemic, and point-in-time surveys tend to undercount. Since October, the $65 million Community Covid Housing Program has found permanent housing for more than 1,000 people, but that figure has to be reconciled with the toll of the pandemic. More than 24,000 evictions have been filed in Houston's "rocket docket" housing court since March 15 of last year.
Samuels says he worries about overcrowding at warming centers, where space is socially distanced but need is disaster-sized. Citizens are stepping up to help: In Houston, Jim "Mattress Mack" McIngvale opened his furniture emporiums as shelters, just as he did during Hurricane Harvey; megachurch pastor Joel Osteen, who stayed on the sidelines in the 2017 storm, took the cue this time and opened Lakewood Church to some 300 people. Hometown hero and villain narratives often frame the public perception of homeless response efforts. What's different this time is the severity of this winter catastrophe — and its arrival on top of an ongoing pandemic.
As Texas energy regulators have rediscovered this week, the time to plan for disasters is before they arrive. To avoid worst-case scenarios, today and tomorrow, Nichols says, state leaders must work harder to make sure people have homes, and commit the resources to keep them sheltered.
"When you see a disaster like this, it's so easy to point fingers," Nichols says. "The state of Texas, with its tremendous financing capability, sometimes leaves the most important services to the cities and counties, without the appropriate funding. This is something that should change."