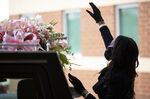 When Ellis Marsalis, pianist and patriarch of a legendary family of New Orleans jazz musicians, died at 85 in April 2020 after being hospitalized with Covid symptoms, the city mourned in silence. In a normal year, Marsalis's passing would have drawn thousands of people from every corner of New Orleans for a jazz funeral, featuring a brass band, and a second line procession. But as the city reckoned with the early stage of the coronavirus pandemic, no public gatherings were allowed; only ten people were able to gather and pay their respects. 
Death is Our Business, a new documentary that premiered in March on PBS's "Frontline," honors lives like Marsalis's, taken by Covid, and the Black-owned funeral homes that have worked tirelessly to adapt to an onslaught of loss.
"So many laid to rest, without our tears, or the tolling of the bell," said Reynold Verret, president of Xavier University of Louisiana, to an empty church, in the film. "Last night, Ellis Marsalis went away, piano keys tug at their locks and rend their robes, and each in their seclusion weep so silently. No second line, no coming home of acolytes, the many musician daughters and sons."
Black-owned funeral homes emerged in New Orleans at the end of the 19th century to serve families barred by white funeral homes. "Back in the early 1800s, Blacks were buried in barns and horse stalls," says Louis Charbonnet III of the Charbonnet Labat Funeral Home, which was established in 1883, in the film. "So we started out real early to make sure that we had a proper place to be buried and a proper facility to have a funeral service in." As in many other U.S. cities, the trade became a means of transferring generational wealth, says Jasminne Navarre, the director of Client Services at D.W. Rhodes Funeral Home, which was started by her relatives in the early 1900s. The funeral homes have become central to the story of New Orleans's pandemic year, where Black residents, who comprise about 60% of the city's population, represented more than three-quarters of fatalities from March to June 5. 
Death is Our Business was produced and directed by Jacqueline Olive, a Frontline/Firelight Investigative Journalism Fellow, whose other works include Always in Season, a documentary about the legacy of lynching in America. Her team filmed in August, as Louisiana crested its second wave of infections, and as the city prepared for hurricane season. The 30-minute movie is available now online.
CityLab spoke with Olive about her film and what lessons she drew from her reporting on how to grieve the profound losses of the past year. Our conversation has been edited and condensed for clarity. 
Why did you choose to tell this story in New Orleans?
I was really interested in this topic, because my godmother had passed away early on in the pandemic, and I didn't have a chance to go to the funeral, and I didn't really have a chance to process it and be with the family in the way that I would normally do. She didn't have the burial that she would have had, and deserved, in terms of acknowledging the value of her life. It was just a quiet ceremony at the gravesite with about probably 10 members of our closest family. 
I was really well aware of that, and thinking about how other families and other folks around the country have had to shift the way that they grieve their loved ones. I was also very interested in the way that Black and Indigenous people have been most hard-hit by the pandemic, and in ways that hadn't been acknowledged enough in the media by then — March 15, I think, is when she died. There was very little conversation and documentation in terms of rates, and there was almost no conversation about the disparities in the ways in which people of color, particularly BIPOC folks, have had to process all of the things that go on around the pandemic. What is lost when you are not able to celebrate the lives of the people in the way that you would normally do? 
And as I was researching it, thinking about where to set the story, New Orleans is just incredibly vibrant. There are many similarities in the ways that Black people funeralize their loved ones around the country, but it's just so much more explicit and vibrantly told in New Orleans. 
Can you talk a little bit more about the history of Black-owned funeral homes in New Orleans?
Black funeral homes, like the Black church, are really cornerstones in communities, historically and currently. When bodies are coming to those funeral homes, there's a lot of historic and valuable knowledge that comes through funeral homes about people's death and their lives, that funeral homes see the information close up. Some of that gets documented, and some of it just gets carried on from generation to generation, through the generations of the families that own the funeral homes. It's a repository of the stories of Black people around their deaths and their lives in those communities that they serve.
The funeral homes you profiled, Rhodes Funeral Home and Charbonnet Family Services, had their own deep histories in the city. How did you choose them?
So I looked into three funeral homes initially, and then went with Rhodes and Charbonnet. They're some of the oldest funeral homes in the country, and certainly in New Orleans. And so I reached out to them. I'm pretty good at getting access to plenty of people, including politicians and high-profile celebrities. Funeral home directors right now have been the hardest ever. There's no comparison. They're so busy around the clock, seven days a week, that it took me a while to get them to tune in. And when I did, then they were very much connected, but they're just so swamped and busy. 
In the film, people who work in the funeral industry talk about the emotional impact of being away from their families and just doing this work every single day. And of course, that work being associated with loss and death and sickness. What toll does that take?
You're talking about Stephanie Simon, who was an embalmer? I remember, she worked probably over a month straight, nonstop, day in and day out, with a disease that at the time, they knew very little about. And so it's a concern about their own life, the health and safety for themselves, for the people that they're working with, the clients that they still have to have to serve and want to serve, and also for their families. And so that takes not just a physical toll, with the stress that comes with being overworked, but it also can take an emotional toll.
I talked to Jasmine Navarre at Rhodes [in late March 2021], and she said they still have the same number of funerals. It's not lessening: They're having 14 funerals a day, still pretty much every day of the week. It's so much beyond the capacity of what they normally do that a lot of funeral homes that were Black-owned shut down because they just weren't able to meet the demand. Some of them shut down temporarily. Some of them are shut down permanently. The funeral homes like Rhodes and Charbonnet, and so many that are still in the middle of serving the community, they're so vital. It's so vital that they are able to continue.
What was so striking in the movie was that the traditional New Orleans-style funerals were continuing. These were not just a couple of people standing around a burial site — there were bands playing, and  gatherings held in parking lots. What does it feel like to be at some of these celebrations? Why was it so important for people to come together despite the restrictions?
It was complex. I had heard that they had started to do drive-through funerals. And I couldn't quite conceive of it. Then getting on the ground, I saw that it totally made sense: The funeral homes, including Rhodes and Charbonnet, would bring the body closer to the exterior. And there's a quite elaborate setup that would happen so that family members could drive through and see the body and have a chance to do some of the same kinds of things that they would do if they were able to go into the chapel space and into the interior of the funeral home. They could sign a registry, for example, but that would be done at the car window with one of the funeral home staff. It sounds a little odd. But people overwhelmingly found it valuable to be able to do that, as opposed to not being there and being present at all. 
There was also the funeral for Kim Boutte, a well-known Mardi Gras Indian queen, who was shot and killed while attending another funeral. Mayor  LaToya Cantrell made a special Covid exemption for that celebration.
Queen Kim Boutte was shot and killed in the middle of our last week of filming. We weren't expecting it to be that kind of improvisational second line celebration. There hadn't been up until that point. And certainly during the time that we were there, there hadn't been the death of a culture bearer, as Queen Kim Boutte was, so it was totally unexpected. 

The entire community, the entire city — including us — we had to regroup to respond to that. People quite naturally came together to memorialize her. There was a ceremony in which people released balloons in her memory, and they did these spiritual rituals to acknowledge her. And also the interesting thing about New Orleans, which may not happen around the country so overtly, is that part of the things that happen with the second line is that you have a funeral service, and you come out of the funeral service, and literally out into the streets, and there's a somber song that's played. And then there's a point at which you're cutting the body loose. Then there's a more celebratory thing that happens. 
That period of cutting the body loose is not just for the people who are left, and how they grieve and how they can move through to a more celebratory understanding of their loved ones' lives. But it's also a way of helping the deceased transition — their soul to transition. So Rhodes figured out a way to facilitate a second line in a way to keep people as safe as possible. But that second line would have normally been about 15,000 people or so. 
It was reaffirming, for me, of the importance and value of these traditions. They will persist, despite what goes on in terms of crises that people have to respond to — from the pandemic to Katrina. People are using what they know and believe about life and death to help them through this really difficult period. 
Vaccines are rolling out; there's some sort of light at the end of the tunnel ahead.  People are wondering, how do you grieve the people who were lost this year? What do you think the long-term impacts of losing these culture bearers and matriarchs will be on  Black communities in New Orleans? 
It's actually really egregious that there was very little mentioned, up until January of this year, about the totality of the deaths, and what they've meant. And to honor and acknowledge the lives of the people who've died. 500,000 people — 5,000 is a lot; 500,000 people is really an indicator that this is significant to the country. And it's also really significant in particular, again, to Black and Indigenous communities. 
What I got when I was in New Orleans, at even the smaller funerals, is the impact of one death — the ripple effects that it has in the communities. It's not just the immediate family — it impacts the entire community. It's really profound. Their lives deserve to be recognized and honored.