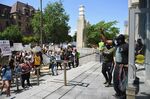 On the night of April 4, an uprising broke out at the downtown St. Louis City Justice Center. People escaped their jail cells and broke windows, set fires and hung signs pleading for help. In the fourth such protest since the start of the year, the detained people were decrying the unsafe conditions of the jail, but also the length of stay.
The men's central demand: "We want court dates." The majority are being held pretrial, meaning they have not been convicted of a crime and are legally innocent. But as the pandemic has suspended court hearings in the city for months, people awaiting trial have been suffering.
In jails around the country, normal operations were disrupted last year as Covid-19 made detention a matter of life and death. And while the pandemic slowed court proceedings, it also forced the hand of local authorities in doing what reform advocates have been demanding for years: lowering jail populations by reducing arrests, and letting some out of jail before trial. 
At the start of the pandemic last March, state and local authorities took action to reduce jail populations by as much as 30% according to the Prison Policy Initiative. But as time has worn on, local jail populations have crept back up, approaching pre-pandemics levels, according to data collected by New York University Public Safety Lab's Jail Data Initiative. In St. Louis and across the country, plenty of people are still being detained even though the pandemic is not over. This moment has offered a chance for reform-minded city leaders to implement lasting changes, but it remains to be seen whether this momentum can be sustained, or whether this reduction in incarceration will be one more anomaly of an atypical year.
Local jail populations have ballooned in recent decades, and some 74% of those held have not been convicted of a crime. Most are awaiting court dates, and are incarcerated because they cannot afford bail. Some languish for months or even years, but even a short time spent in jail pretrial can destabilize a person's life and livelihood. While federal data on racial disparities in pretrial detention hasn't been collected in nearly 20 years, multiple smaller studies have repeatedly shown that Black and Latinx defendants are held more often, longer and at higher bail before trial than white defendants.  On Friday, Brookings and the American Enterprise Institute plan to release a report on pretrial detention, among other criminal justice issues.
Neighboring Reforms
In St. Louis County, just one jurisdiction west of the city, local leaders have been grappling with the same problem for years. A recent audit of the county jail found that nearly a third of people detained have been awaiting trial for more than a year. One person has been waiting for more than five years. It's one of the foremost challenges facing Prosecuting Attorney Wesley Bell, who in 2018 was elected on a platform of policing and incarceration reform in the wake of the Ferguson uprisings.
"We recognized that we were not addressing the root causes of crime, and were on the same path that we saw nationally for the last generation or so of just locking everyone up," said Bell.
Under Bell's tenure, the prosecutor's office has declined to prosecute low-level drug offenses, and has moved to issuing more summonses in lieu of warrants, which avoids someone having to be booked into the jail. These are in addition to other efforts, such as a diversion program that offers mental health and substance abuse services instead of prosecution for some offenders, and a jail population review team composed of judges, prosecutors, public defenders and others to go back over the cases of those who have been detained pretrial. 
"We had a lot of people who just needed help," Bell said. "So we wanted to reduce the jail population by addressing those individuals and getting them out, which is not only better for the individual, but keeps us all safer." 
Data from the county jail indicates that these efforts have been effective. The jail population went down 22% from 2018 to 2019, according to research led by Beth Huebner, a criminologist at the University of Missouri-St. Louis who has worked on reform efforts. It dropped even further at the start of 2020, but these gains were largely lost in the first quarter of 2021, as the population rose back up to nearly the same level as 2019. Racial disparities persist too; even though they don't make up the largest portion of jail residents, Black men still have the longest average length of stay in the county jail.
Covid's Impact
Jurisdictions around the country have undertaken similar reform work, many through the Safety and Justice Challenge, an initiative funded by the MacArthur Foundation to help local jurisdictions figure out ways to reduce their jail populations. Fifty-one cities and counties nationwide receive funding and research support from MacArthur to determine the best reforms for reducing incarceration. Between 2015 and 2019, the average daily jail population across all SJC sites was down 18%, and down 19% for pretrial detention.
Milwaukee County is one such place, where local leaders were able to build on existing efforts at reducing the jail population to act fast when Covid hit. District Attorney John Chisholm, who has held the post for 15 years, has worked over that time to gradually change the office's approach to incarceration, using strategies similar to those in St. Louis County.
The Milwaukee police department instituted a diversion program for misdemeanor offenses, and partnered with the County Behavioral Health Division to create a crisis response team to offer care and services to people experiencing mental health crises. When the pandemic hit, the Community Justice Council, a board that observes the work of criminal justice system actors, consulted with a retired health department official who advised that they needed to let people out of jail immediately. They did that, reducing the population by nearly 40%, and redesigning jail capacity to retain only the most serious offenders. While outbreaks happened, the county jail had no Covid deaths.
"The foundation, the trust, the relationships and the process that we developed with the Community Justice Council was custom-made for an emergency like the pandemic," said Chisholm. Throughout the rest of last year, Milwaukee's detained population began to trend back upward, though not reaching the same level as before the pandemic. The majority of those being held are still pretrial.
Racial Disparities
While these structural changes have reduced jail populations overall, they have not fully addressed the issue of racial disparity in pretrial detention. Analysis from cities across the Safety and Justice Challenge shows that even as overall incarceration rates have gone down during the pandemic, Black, Latinx and Indigenous people are still largely booked into jail at higher rates than white people, and in some cases, that gap has even widened in the past year. This persistent over-incarceration of people of color can't be solved only by implementing across-the-board strategies, says April Frazier Camara, director of Defender Legal Services Initiatives at the National Legal Aid and Defender Association. It requires a holistic shift of the entire framework.
Frazier Camara testified about racial disparities in pretrial detention last month in a hearing before the U.S. House Judiciary Committee. She noted the disproportionate impact of pretrial detention on Black women and youth, and argued for a reform approach that addresses all of the steps in the pretrial process, not just diversion. This means providing individuals with quality defense counsel at their very first appearance in court, and ensuring that counsel is well equipped to prepare a strong defense, as well as offer their client social services.
"The pretrial system is a driver for mass incarceration rates, but it's also a driver of the disparate outcomes we see," Frazier Camara said in a later interview. "A person's ability to be at home or in the community pending trial impacts their ability to work with their attorney to get a better outcome for their case."
Also present at the hearing was Michele Hanisee, president of the Association of Deputy District Attorneys, who cautioned against broad pretrial reform out of concern for potential further harm done to victims and witnesses of crime when people accused of felonies are released pretrial. Frazier Camara says she recognizes the validity of these concerns, and believes that they can be addressed through  justice system reforms that truly center the voices and experiences of the communities most impacted by violence — both interpersonal violence, and that of the state.
"When we talk about victims, it's so important for us to include all harm that has been done to communities of color," says Frazier Camara. "Everything can't be driven by prosecution and police. The experts that we call upon have to be centered in the experience of the most directly impacted community.  For Black people, we've never been given a choice; we've been told that we were going to be policed. We've never had a say in stating: 'This is what I and my community need to feel safe.'"
In St. Louis, city Treasurer Tishaura Jones, who was recently elected as the city's first Black female mayor, has said that she plans to make this sort of community-led governing a cornerstone of her administration. In the viral letter to the editors of a local newspaper she wrote as a candidate, she committed to "look at every issue through a racial equity lens," including incarceration. Jones has committed to closing down the notorious "Workhouse," a medium-security institution where most of those detained are pretrial. About the downtown justice center, Jones expressed a similar sense of urgency.
On the night of the uprising, Jones tweeted: "We need to get serious about moving pretrial detainees out of our jails, vaccinating our inmates and creating a new culture of justice in St. Louis."