Economics
Canada's Rising Star Sticks to Her Guns on Stimulus
Finance Minister Chrystia Freeland champions a robust fiscal response to the pandemic, but acknowledges her nation's initial vaccine effort fell short.
By and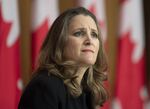 Subscribe to Stephanomics on Apple Podcasts
Subscribe to Stephanomics on Spotify
Canada has a well-earned reputation as the world's "goody two shoes," with a progressive record on civil liberties and a history of sticking to its principles in times of peril. The country made it through the 2008 financial crisis relatively unscathed, and more recently its Atlantic provinces were praised for their aggressive effort to stop Covid-19.