Food
Singapore Offers a Blueprint for Restaurants Back in Lockdown
Will a $600 delivery meal sell this time around?
By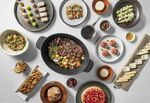 Singapore has been heralded as the pandemic escape for the superrich.
So in the middle of May, when the city shut down in-person dining following a surge in Covid-19 cases, restaurants had to decide how best to serve customers remotely. Through June 13, food and beverage establishments will be limited to take-away and delivery only. The measures are similar to those from last year's so-called circuit breaker, so most places have experience this time around. The question for many of the city's upscale establishments was whether to follow last year's trend toward comfort food, or to appeal to the population of high-income and wealthy people in Singapore who might still cling to a more elevated experience.