Finance
The World's Biggest Investors Get Louder About ESG
It may not be a coincidence that Wall Street giants are increasingly backing shareholder resolutions and telling everyone about it.
By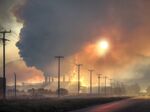 Sign up to receive the Bloomberg Green newsletter in your inbox every weekday.
Perhaps never before have the world's biggest fund managers been so vocal about how they plan to vote in annual shareholder meetings.