Finance
Companies With $2.1 Trillion of Debt Face Natural Capital Risks
Moody's singles out 12 industries, including mining, oil and gas, and shipping.
By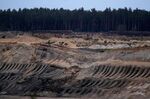 Companies with $2.1 trillion of debt are heavily dependent on nature for resources and materials, even as many of them contribute to its destruction, according to Moody's Investors Service.
Moody's said in a report Wednesday that companies in 12 sectors, including mining, oil and gas, and shipping, have "high" or "very high" exposure to natural capital risks. The ratings company said its assessment includes both companies' impacts and dependencies on the assets provided by nature.

The natural world is in crisis: Over-consumption, pollution and deforestation have destroyed vibrant ecosystems, caused sharp declines in wildlife populations and left as many as 1 million species of plants and animals facing extinction. Businesses and investors are now beginning to pay greater attention to their impacts on nature and consider how they can support efforts to restore the earth's biodiversity. Axa SA's investment management unit announced Wednesday that it will stop investing in companies that contribute to deforestation or the loss of biodiversity.