Finance
Shedding Some Light on the Murky World of ESG Metrics
A new study illustrates how a lack of universal standards and transparency across industries means ratings don't really amount to much.
By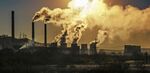 Sign up to receive the Bloomberg Green newsletter in your inbox every weekday.
Two years ago, researchers at the University of Chicago Booth School of Business started collecting data to determine the real social and environmental credentials of companies in the S&P 500.