Finance
Oil Lobbies Attack the SEC Over Mandatory ESG Disclosure
Fossil fuel companies say the voluntary system of revealing financial risk is more than enough for shareholders.
By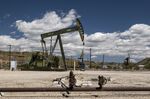 Sign up to receive the Bloomberg Green newsletter in your inbox every weekday.
When it comes to being upfront with shareholders about the risk climate change poses to its survival, the oil industry—whose products are the key driver of global warming—is deeply divided.