Finance
Harvard's Money Manager Has a Plan to Turn Short Sellers Against Emitters
Richard Slocum says short positions should function like offsets, allowing investors to deduct emissions from their portfolios.
By and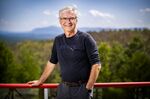 Richard Slocum oversees investments at Harvard Management Co., the U.S.'s largest college endowment, with almost $42 billion of assets as of June 2020 . By the time he took over the job in March 2017, he'd managed institutional money for more than 20 years, and before that had worked at some of the top banks in New York helping companies access institutional private markets.
But even in spite of all that experience, he's starting from square one when it comes to zeroing out the Harvard endowment's greenhouse gas emissions, which the university pledged last year that it would do by 2050. There is as yet no industry standard for what a net-zero portfolio even means, leaving investors and portfolio managers largely in the dark as to how they should try to get there.