Economics
Ray Dalio and Lawrence Summers Keep Sounding the Alarm on Inflation
Policymakers moved quickly to stave off economic disaster when the pandemic struck. The question now is how fast they should change course.
By and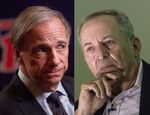 Subscribe to Stephanomics on Apple Podcasts
Subscribe to Stephanomics on Spotify
The early days of the pandemic saw a scramble to unleash massive monetary and fiscal bailouts to counter the fallout of a global health crisis and the shutdowns intended to mitigate its damage. Almost a year and a half later, times have changed in many countries, and so has the economic landscape. But are policymakers moving fast enough to unwind their emergency measures?