Finance
Brexit-Battered London Spars With Paris for Green Finance Crown
The home of JPMorgan's new European trading hub has emerged as a surprising contender to lead the green finance industry that could reach $53 trillion by 2025.
By and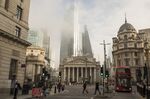 As JPMorgan Chase & Co. chief Jamie Dimon made clear this week, Paris keeps chipping away at London's financial dominance. The next prize at stake: becoming the global capital of green banking, and the trillions of dollars of deal flow that will bring.
Paris and London are competing to dominate this burgeoning world of investment products tailored for environmental, social and governance factors, which Bloomberg Intelligence estimates could grow to more than $53 trillion of assets by 2025 — a sum that's greater than the global market for corporate bonds.