Finance
Green Finance Isn't Going Where It's Needed
Poor countries pay a higher price to raise money for green investments. We'll all pay the price if they don't get the support they need.
By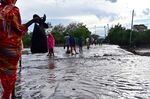 Sign up to receive the Green Daily newsletter in your inbox every weekday.
Some of the finance world's biggest climate champions may be undone by a relatively small part of their portfolios: emerging market debt.