Finance
Private Equity Follows the Money—and the Money Is Ditching Fossil Fuels
Funds dedicated to renewable energy have lapped fossil fuel funds 25 times over.
By and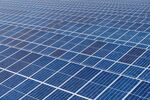 The buyout industry has long been a major backer of fossil-fuel deals. Now it's rolling out new green asset funds at a record clip in a bid to lure the institutional money flocking to climate-friendly investments.
Today's private equity shops—including the world's largest alternative asset manager, Blackstone Group Inc.—are pouring capital into fast-growing sectors such as solar, carbon capture, and battery storage. Part of the attraction stems from the rapid adoption of wind and solar as public demand for climate accountability rises. It's a shift in investment strategy that comes after years of fits and starts for the once struggling renewables space.