Finance
The Case Against Fossil Fuel Divestment
"Just selling does nothing to address climate change, as ownership of the funds are just being transferred to someone else," says one state pension fund official.
By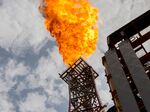 Sign up to receive the Bloomberg Green newsletter in your inbox every weekday.
Last month, Maine became the first U.S. state to order its public pension fund to sell off fossil-fuel holdings. The deadline? Four and a half years.