Sparklines
The Corporate Climate Pledges Are as High as an Elephant's Eye
With mid-summer now here, 2021 has already surpassed 2020 on a few sustainable finance metrics.
By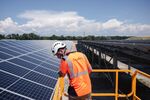 Sign up to receive the Green Daily newsletter in your inbox six days a week.
We're halfway through 2021, and it's already proving to be a bumper year for sustainability. Almost every major activity in sustainability is above last year's trend lines: Corporations are making more pledges to procure clean energy. Financial markets are issuing more sustainable debt. And investors are putting more money into environmental, social, and governance-themed exchange-traded funds.