Energy & Science
China's Extreme Weather Warnings Avoid Talk of Climate Change
State media often frame climate change as a global problem that China can lead in solving, not as a crisis that affects its citizens' daily lives.
Bloomberg News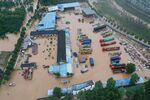 Sign up to receive the Green Daily newsletter in your inbox six days a week.
As unprecedented heatwaves sweep across large parts of the Northern Hemisphere, China is telling its people to brace for another summer of dangerous floods and droughts.