Politics
European Union's Massive Climate Overhaul Is Just the Beginning
The ambitious proposal isn't perfect, but it's an encouraging attempt.
By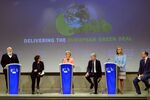 Sign up to receive the Green Daily newsletter in your inbox.
The European Union's climate plan might be the most ambitious attempt yet to force a major economy to abandon fossil fuels, and by some measures it still won't be enough to keep global temperatures from rising. But that's no reason to despair.