Climate Adaptation
China Is Carrying Out the World's Largest Climate Migration Program
Few other governments are able to enforce such mass relocations as climate change is stressing communities with drought, extreme weather, higher temperatures, and desertification.
Bloomberg News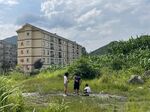 Sign up to receive the Green Daily newsletter in your inbox.
It's the Dragon Boat Festival in early summer and Xiang Yang and his wife are sitting outside their house in Ma'an village, playing with their grandson. In front of them is a steep, bare slope, all that remains of most of the village's rice fields, which collapsed into the valley 20 years ago. Landslides happen frequently in the region — one last year killed six people — but Xiang has declined a government offer to relocate to the city.