Food
Sales of Vegan Bacon Are On the Rise as More Brands Hit the Market
Plant-based producers are attracting notable funding for a market not yet taken over by Impossible Foods and Beyond Meat.
By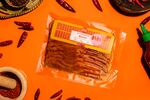 There's no denying the appeal of bacon. The pork product represents a heart-stopping 99% of the total bacon market. In 2020, sales of the breakfast staple totaled $6 billion through November, up 20% from the same time period a year earlier. 
But plant-based bacon is carving out space in the frying pan. Sales are up 25%—almost double that of meat-based bacon for the 52-week period ending April 18, according to data from Spins, which reports retailer data for natural and organic products. Nielsen, which aggregates data from conventional grocers, reported that the entire category of bacon alternatives almost doubled in 2020, to $267 million, compared to 2019.