Finance
Net Zero Is Hard Work, So Companies Are Going 'Carbon Neutral'
There's a debate about how companies should be recognized for buying carbon offsets based on avoiding emissions. Better to call them "carbon responsible" instead.
By and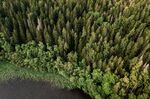 Sign up to receive the Green Daily newsletter in your inbox.
Companies are buying carbon offsets like never before. They're also facing unprecedented scrutiny over whether helping to fund green projects elsewhere really makes up for their heat-trapping emissions.