Climate Adaptation
Chinese City Hit by Deadly Floods Had Heatwaves Days Before
The devastation in Zhengzhou is the latest in a series of extreme weather events globally that are making the risks of climate change more tangible.
Bloomberg News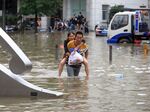 Just days before devastating floods hit the central Chinese city of Zhengzhou, its province of Henan endured heatwaves that swept across several industrial regions, threatening power outages.
Now the city of more than 10 million is reeling from a record rainstorm that brought a year's worth of precipitation in three days. The death toll in Henan has climbed to at least 33 and as many as 380,000 people were evacuated. Videos of passengers standing in chest-high water waiting to be rescued from subway cabins, cars swept away as floodwater poured through downtown streets, and children trapped in mud started circulating on social media late Tuesday night.