Technology
Neuralink Competitor Raises $20 Million for Brain Implants
Paradromics is one of several companies working on technology to help people interact with the outside world using their mind.
By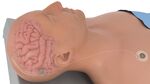 A competitor to Elon Musk's Neuralink said it raised $20 million, enough to get it on track to introduce a new generation of powerful and tiny electrodes to the human brain.
Paradromics Inc., founded in 2015 about a year ahead of Neuralink, is building brain-computer interfaces that could help people with disorders ranging from paralysis to speech impediments.