Pursuits
New York Now Has Better Indian Food Than London
An enterprising chef-restaurateur duo upends long-held dining wisdom.
By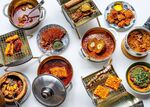 It's something I've suspected for several years and suggested sotto voce to friends, but now can say out loud: New York City has better Indian food than London.
I say this after a few dinners at Dhamaka. The latest collaboration between restaurateur Roni Mazumdar and chef Chintan Pandya is the ras-malai, the end-of-meal sweet, that rounds off the perfect maha-bhoj, or grand feast, of the city's Indian dining options. I can drill down to a single dish that confirms New York's primacy: the baked rabbit known as Rajasthani khargosh.